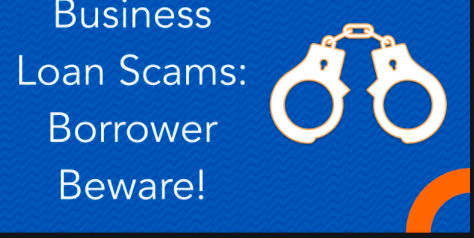 By Debbie Gregory.
We hope that you have found the prior article on Business Loan Scams helpful.   It so important to be aware so you and your Small Veteran Owned Business do not fall prey to a scammer.  Remember that scammers often will contact you online or by phone.  Below we will provide you additional types of Business Loan Scams.
Ghost Investors: You can receive a call about a "potential investor" lined up to provide you huge amounts of funding immediately and asking for a transaction fee.   Keep in mind when anything sounds to good to be true, it usually is a scam.  Ghost investors are more of a con trying to go after those who might be in the market for business loans and/or funding.   The scammer will act as the "agent" for a large investor, foundation, angel investor or fund who wants to give you money and make an investment in your business.
They are not too interested in hearing your plan or ideas but want to collect your private financial information online such as your social security number or tax identification number for your business.   They will say they need this private information to conduct a background check.  They also will try to obtain an advance fee of some type from you.  They want to hook you and then do a double whammy of taking your personal information and obtaining your money in advance fees.   Legitimate investors take a considerable amount of time to investigate you and they do not ask for fees.
Loan Broker Swindlers: These scammers will promise to connect you with a reputable lender in the role of consultant of sorts.   They want your sensitive information and advance fees.
Yes, there are legitimate loan brokers out there, but the real ones will not ask you to pay upfront for their services.   Most ethical loan brokers work on a commission basis and are not paid their commission until the deal closes.  Please beware of any loan brokers who ask for their fees upfront.  If someone wants to buy your business or make a loan, there is a process and it should not cost you upfront.
After Financing Business Loan Scams: Stay alert because after you have your loan, there are scammers who will come out of the woodwork.  Below are some of the scams after you obtain your loan:
Debt Relief Scam: It usually goes like this: "If you are struggling with loan payments, get out of debt with affordable monthly payments and we guarantee 48-hour approval".   The target are people who have trouble keeping up with their loan payments.  The scammer often promises to significantly cut your loan payment or forgive all or part of it.  Once again, they will try to obtain your sensitive information and even your bank account info.   Anyone who promises you a "guaranteed approval" is usually not legitimate.  Again, they will try to obtain upfront fees.  If you are struggling with payments, talk with your existing lender and determine if you can revise the loan so the payments are more affordable.
Debt Collection Schemes: This is when debt collectors harass you, make threats of arrest and try to use fear to obtain money from you.    Collectors are regulated by law.  At the end of the day, they want to work out a plan with you and are not allowed to make threats.  If you feel threatened, it probably is not a legitimate collector.
There are many ways that hard working small business owners can be tricked by scammers and con artists.  We urge you to be on the lookout for the following:
Unsolicited Contact
Non-Traditional Advertising
Upfront Money Requested
Lack of a Physical Address
Generic Email Address
Guaranteed Approval
High-Pressure Sales Tactics
Too Good to be True
If you or someone you know becomes the victim of a business loan scam, below are a list of things you can do:
Report to the Consumer Financial Protection Bureau (CFPB)
Call local police
Report identity theft
Contact local credit bureaus
We urge you to be on the alert to avoid business loan scams.  As we previously stated, knowledge is power.  Take your time and confirm that you are dealing with legitimate sources.
If you are interested, we invite you to join VAMBOA.   There are not any fees or dues charged to members.  We will also allow members to use the VAMBOA seal on their collateral and website.  If you want to join, below is a link to register: