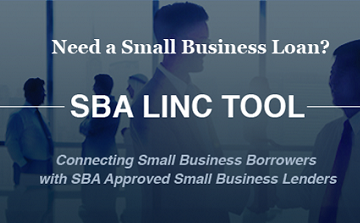 By Debbie Gregory.
This week, the U.S. Small Business Administration (SBA) announced that it will be launching an innovative tool on its website that will allow entrepreneurs looking for a small business loan to connect directly with an SBA lender.
The tool is called LINC, short for "Leveraging Information and Networks to access Capital." By filling out a short online form, LINC connects entrepreneurs to lenders within 48 hours. The SBA hopes that through the utilization of LINC, the federal agency will be better able to provide guidance and ensure that more capital is reaching our nation's small businesses.
"Effective today, LINC will bring entrepreneurs and SBA lenders together," said SBA Administrator, Maria Contreras-Sweet.  She continued, "There's a hunger among entrepreneurs to find financing to get their business off the ground or take the next big step in their expansion plan. The SBA stands there ready to help them, now with a few simple clicks."
LINC users fill out a twenty-question online form, and their answers are sent to every lender in their county, as well as lenders with a regional or national reach. Once these lenders have reviewed the information, they respond directly to the entrepreneur within 48 hours. There are no fees and no commitment associated with LINC. It is a free federal initiative offered exclusively through the SBA
Contreras-Sweet went on to say, "Across the country, thousands of small business owners pound the pavement every day, looking for term loans, equipment financing, lines of credit, invoice financing, and real estate loans to help them hire and grow. If you have a bankable business idea backed by good credit and sound financial planning, the SBA wants to streamline the process for you to get the capital you need."
It is the hope of the SBA that LINC will free entrepreneurs from feeling like their only lending option comes from one neighborhood bank. By using technology, LINC will help entrepreneurs get their foot in the door at multiple institutions, in one shot, and improve their access to the capital they need to start or maintain their small business.
Currently, there are 124 lenders across the nation participating in LINC. The SBA will look to expand into more traditional banking institutions that offer a more diverse menu of financial products.
For more information about LINC or to connect with SBA approved lenders, please visit https://www.sba.gov/tools/linc
The Veteran and Military Business Owners Association (VAMBOA) is a non-profit business trade association that promotes and assists Veteran Business Owners, Service Disabled Veteran Owned Businesses (SDVOB) and Military Business Owners. Small businesses are the backbone of our economy and responsible for job generation. That is why VAMBOA provides its members with Business Coaching, Contracting Opportunities, a Blog that provides information, Networking contacts and other resources. Membership is FREE to Veterans. Join Now!
VAMBOA: SBA Launches Program Connecting Entrepreneurs to Lenders: By Debbie Gregory