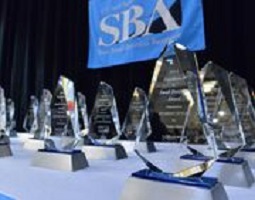 By Debbie Gregory.
National Small Business Week 2015 was May 4th-8th. It included major events in Miami, Los Angeles, San Antonio, New York and Washington D.C. This year's theme was "Dream Big. Start Small." The annual week of celebration, education and recognition is a yearly opportunity to honor the 28 million small businesses and renew our national commitment to fostering the entrepreneurial spirit that is central to the American dream. On May 8th, National Small Business Week 2015 concluded with an awards ceremony at the White House.
At the ceremony, several small business owners, entrepreneurs, lenders, and supporters were recognized by the U.S. Small Business Administration (SBA). One of the awardees was RTH Mechanical Contractors, Inc., winning National Sub-Contractor of the Year.
RTH is a Veteran-owned mechanical and general contracting company,  servicing clients primarily in New Hampshire, Maine and Vermont for more than 28 years. Some of the services that RTH provides include pipefitting, plumbing and med gas. RTH received more than $12 million in subcontracts to provide plumbing, mechanical ductwork and rooftop HVAC. The work included emergency repairs to mission critical design-build activities for the Portsmouth Naval Shipyard and New Boston AFS for the ECC corporation, its prime contractor.
Other clients of RTH include the U.S. Departments of Navy, Army, and Coast Guard, the New Hampshire Air National Guard, Bath Iron Works Facility, Veterans Administration, Dartmouth College, University of New Hampshire, and the New Hampshire Department of Transportation.
We at VAMBOA would like to congratulate RTH Mechanical Contractors, Inc. the National Sub-Contractor of the Year.
We would also like to encourage all VAMBOA members to keep an eye out in December for notices about the 2016 nominations. Be sure to nominate yourself, your company, your lender, or any agency/organization that has helped you and your small business succeed.
The Veteran and Military Business Owners Association (VAMBOA) is a non-profit business trade association that promotes and assists Veteran Business Owners, Service Disabled Veteran Owned Businesses (SDVOB) and Military Business Owners. Small businesses are the backbone of our economy and responsible for job generation. That is why VAMBOA provides its members withBusiness Coaching, Contracting Opportunities, a Blog that provides information, Networking contacts and other resources. Membership is FREE to Veterans. Join Now!
VAMBOA: National Small Business Week Wrap-up: By Debbie Gregory