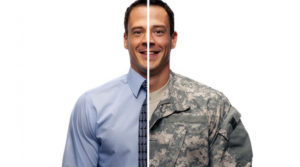 By Debbie Gregory.
It is becoming more and more common for veterans to leave the battlefield and enter the world of entrepreneurship. This article will introduce a few outstanding veteran entrepreneurs.   They set a high bar.
U.S. Marine Corps veteran Travis McVey of Heroes Vodka combines being a veteran entrepreneur with a commitment to support his fellow veterans. Heroes Vodka was first bottled on Veteran's Day, 11.11.11. As the "Official Spirit of a Grateful Nation," the mission of Heroes Vodka is to deliver exceptional taste and superior value to consumers, while honoring veterans and other American service organizations through charitable contributions. McVey donates a portion of all sales to AMVETS.

U.S. Marine Corps veteran, Nick Taranto, founded Plated, a meal delivery service that offers healthy, affordable, and delicious food. The service, which was acquired by Albertson's Grocery Stores, delivers boxed chef-designed dinners that can be prepared at home in around thirty minutes.

U.S. Navy veteran, Brandon Buttrey founded Counterstrike Coffee Buttrey reflected on his time in the service when coffee was highly valued and enabled servicemembers to better function. He knew that if he designed a military/veteran friendly coffee brand, he would have some serious customers. Counterstrike Coffee offers pre-packaged coffee in both whole bean or ground form. A portion of the proceeds goes to the veteran warfighter community.

Michael J. Penney

is the co-founder of Cigars and Sea Stories, a podcast devoted to sharing stories with veterans who are adding value to the world. In March of 2016 he presented at TEDxRaleigh, "What's Your IED: How to Add Value During Life's Explosive Situations", combining military and personal experiences to bridge the lives of veterans and civilians. Penney is the creator of the "5 Paragraph Business Plan

" – taking the military operations order format and applying it to business.

Few entrepreneurs can say they founded an internet business that grew from zero to a billion dollars in revenue. Chuck Wallace is one of those rare entrepreneurs. In 1999, Wallace co-founded eSurance, a company that not only survived the bubble burst, but thrived and provides a quick and easy way to purchase insurance.  Before starting eSurance, Wallace was a U.S. Air Force pilot who taught undergraduates to fly.
Veteran and Military Business Owners Association, VAMBOA,