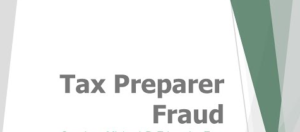 By Debbie Gregory.
It's tax time again, and many Americans who are uncomfortable with doing their own tax returns will hire a third party to do them. While there are many legitimate professional tax preparers who have solid reputations, not all tax preparers have your best interests at heart.
For example, the "Go Navy Tax Service" company, which was deemed off limits by the Marine Corps and located near Marine Base Camp Pendleton in California.  It is alleged that this would lure young Marines with promises of free tax preparation and other perks and subject them to high-pressure sales tactics to get them to deposit their refunds into various financial products.
There are very limited requirements for any type of certification, training, registration, or competency testing for tax preparers.  Anyone who is paid to prepare or assist in preparing federal tax returns must have a valid Preparer Tax Identification Number but that is about it.
There are three areas to check out when looking into a someone to prepare your taxes.   They include how long the preparer has been doing taxes, how much experience they have, and how they are making their money by doing your return.
In addition to the above alleged tactic used by Go Navy Tax Service, other red flags include a return with creative deductions, or any fabricated information in order to increase the size of your refund, or a "cash only" payment policy. Be wary of anyone promising large refunds.
Do not under any circumstances sign a blank return or allow your refund to be deposited into any bank account other than your own. Always double-check the tax forms before signing them and mailing or e-filing them. You're the one who has to answer if you are audited by the IRS, and you could be in serious trouble for providing fraudulent information. Double check both the routing number and the account number to make sure they are yours and the refund is not going to anyone else.
Of course everyone wants to receive the largest refund possible, but don't let the promise of a big payoff keep you from doing a thorough check on your tax preparer.
Many military installations and numerous community locations offer free tax preparation assistance through the IRS' Volunteer Income Tax Assistance (VITA) programs.
For more military-specific resources, visit the IRS military page at https://www.irs.gov/individuals/military
Veteran and Military Business Owners Association, VAMBOA,