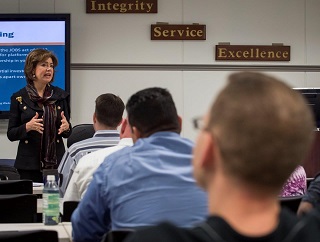 Recently, the U.S Small Business Administration (SBA) announced that fee relief for small business loans made to Veterans will be extended through fiscal year 2015, and that programs for its Veterans Advantage program will be enhanced.
Last year, the SBA implemented its zero-fee loans for Veteran owned small businesses on 7(a) loans of $150,000 or less. This benefit was supposed to expire on September 30, 2014. The continuation of the loan relief was slated to extend from October 1, 2014 to September 30, 2015.
"We zeroed out fees on loans of less than $150,000 to any 7(a) borrower because we don't want SBA fees to be an impediment to getting capital out to communities where it can make a game-changing difference, especially to our underserved communities, who use these small dollar loans more frequently," said SBA Administrator Maria Contreras-Sweet.  "We also owe a debt of gratitude and so much more to our service men and women, and veterans who are the cornerstone of small business ownership. This fee relief will continue to help veterans business owners who grow their businesses, create jobs in their communities, and put their training and passion for our country to work in their neighborhoods."
As of the middle of September, the SBA had guaranteed more than 28,800 loans under $150,000 for a total of over $1.74 billion in FY 2014. These totals are up from FY 2013, when the SBA guaranteed $1.34 billion for 23,337 loans under $150,000.
For loans larger than $150,000, the SBA will continue to offer an annual servicing fee at 0.519% of the guaranteed portion of the outstanding balance of the loan. The upfront guarantee fee will continue to depend on both the amount and the maturity of the loan.
The SBA will also continue to offer zero upfront guaranty fee on all SBA Express loans to veterans, on loans of $150,000 up to $350,000 through FY2015.
One of the other enhancements that the SBA is implementing is the upfront guaranty fee for non "SBA Express" loans $150,000 up to $5 million, which will be reduced by 50%. There is no reduction on the annual servicing fee for loans over $150,000.
The SBA determined that 70% of its loans made to Veterans are $350,000 or less. In FY 2014, the SBA had guaranteed 153 loans for $38,861,900 through its Veterans Advantage program. Fee relief for these loans resulted in savings to borrowers of about $571,000.
For further information on all SBA programs and services, visit the SBA website at www.sba.gov, or contact your local SBA field office.
The Veteran and Military Business Owners Association (VAMBOA) is a non-profit business trade association that promotes and assists Veteran Business Owners, Service Disabled Veteran Owned Businesses (SDVOB) and Military Business Owners. Small businesses are the backbone of our economy and responsible for job generation. That is why VAMBOA provides its members with Business Coaching, Contracting Opportunities, a Blog that provides information, Networking contacts and other resources. Membership is FREE to Veterans. Join Now!
VAMBOA: SBA Extends Loan Programs: By Debbie Gregory