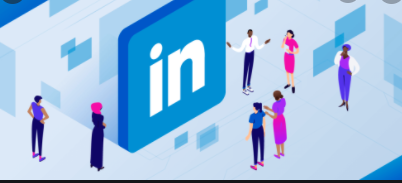 By Debbie Gregory.
In Part 1 of this article we share some interesting information including some statistics about who is on LinkedIn and why, This article will provide you even more information including why marketers and sales professionals use this site and why advertising with the platform is makes a great deal of sense.
11.) LinkedIn for Lead Generation for Business Marketing Professionals:
Approximately 89% of all business-2-business (B2B) marketeers on LinkedIn use it exclusively for lead generation. About 62% of them also say that they successfully generate new leads from LinkedIn. That is over twice as much as on any other social platform.
12.)  LinkedIn for Content Marketing for Business Marketing Professionals:
Currently, 94% of B2B marketers use LinkedIn for content marketing because this platform is viewed as more trustworthy for delivering accurate and worthwhile business-related content than any other social platform. With LinkedIn, your company is not forced to fight with parties, opinions, vacation photos, or personal updates to be seen. LinkedIn is free of most of that since it is widely viewed as a place where people expect and seek out work-related content.
13.) LinkedIn for Sales Generation: 
Over 59% of sales professionals surveyed count on social platforms to sell their products and services. Sales professionals know how important networking and networking platforms are to their success.  Most of them, 70 percent use LinkedIn more than any other platform.  This is quite a testimonial for sales generation.
14.) LinkedIn For A Cost-Effective Way to Place Ads:  
Did you know that LinkedIn also has ads? Not only is their audience primed for your messages, the cost per click or lead on LinkedIn is, on average, 28% lower than other popular pay-per-click (PPC) ad platforms inlcuding Google AdWords.
15.) LinkedIn Offers More Bang for Your Buck:
An ad on LinkedIn has the potential to reach approximately 12% of the world's population over the age of thirteen years of age and costs 28 percent less than other ad platforms.
16.) Linked In has Better Performing Email Campaigns:
LinkedIn offers a wide variety of different ad placements and formats.  Their InMail offering is one that is quite interesting. On average, their sponsored InMail campaigns have a 52% open rate, which is more than double the average for a traditional email campaign on any other platform (MailChimp, Constant Contact, etc.).
17.) More People Will View Your Content on LinkedIn:
LinkedIn is not simply a recruitment platform anymore. It is also a place where professionals go to connect, educate, and inform themselves. Content posted to LinkedIn typically has 15 times more content impressions than any other posts. This means LinkedIn is very valuable to content marketers, especially those in B2B content marketing.
18.) LinkedIn Allows You to Specifically Target Decision Makers:
Part of the appeal of LinkedIn for professional marketers is that LinkedIn gives them the ability to target people by their job or title instead of simply their basic demographics. Currently, four out of every five users on LinkedIn are the people in their respective companies that are the decision makers who drive business and purchasing decisions.
19.) Majority of LinkedIn is From Mobile Users:
Currently, there are approximately 57% of all LinkedIn users access this platform via mobile devices. Even though this number is lower than other social platforms, such as Facebook with approximately 98% mobile users, it is an excellent idea to optimize all of your posts for mobile and not just desktop.
20.) LinkedIn Continues to Grow and Gain Steam:
Engagement and use of the LinkedIn platform has increased 50%, year after year, over the last several years. It has evolved from a simple recruiting site into a full-featured business connection site. This platform continues to add more and features every year and is a great tool for businesses to share their content on.
As you can see, LinkedIn is a great tool for businesses, and it is still growing by leaps and bounds. If you are not yet on LinkedIn, stop what you are doing and join now.  Remember that a regular profile is free, and the premium membership is very inexpensive. –  Do it NOW!
VAMBOA, the Veterans and Military Business Owners Association invites you to join as a member.  There are not any fees or dues.   You may also proudly display the VAMBOA seal on your website and collateral.   We provide several articles on our blog weekly with all types of valuable information.
JOIN TODAY here:  https://vamboa.org/member-registration/