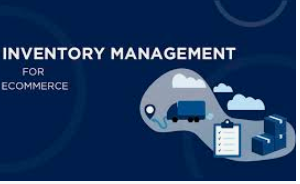 By Debbie Gregory.
We hope that you enjoyed the first two articles in the Inventory Management mini-series.   This next article is about Inventory Management for eCommerce.
Clearly, eCommerce stores have very different inventory tracking needs than retail businesses do. The system can help you manage both your physical inventory as well as your online inventory. Working with an inventory management system can have some outstanding benefits for you and your company, even if you use drop shipping and have no physical inventory.
What are some good practices for eCommerce Inventory Management?
1.) Forecast Your Needs:
Like traditional retail stores, eCommerce shops also need to forecast their buying needs based on past sales. You should have a plugin for your online shop that allows you to view your point-of-sale analytics in real time. This will tell you which parts of your site are performing well, and which ones are not and what are the hot products or services that are in most demand.
One huge upside to eCommerce sites over brick-and-mortar stores is that you can easily get rid of underperforming products or seasonal products without having to pay in advance for the items or put them on clearance. You can forecast what you believe that you will need, and pivot as the need arises, usually with a simple click of your mouse.
2.) Use a Centralized System:
Currently, Excel is no longer the best tool for tracking inventory. There are quite a lot of apps and cloud-based inventory programs, from the very basic to the very complex, that are available.  If you are not already using one, it is time to switch over to the right one for you.
Depending on which application you choose, you can find inventory management software that will:
Alert you when inventory is low or expiring
Create customizable packing slips and barcodes for order fulfillment
Track all of your sales and inventory in real-time. This allows you see all the inventory levels of each one of your stores in one single place.
Create customized promotions and gift cards
Use your Point-Of-Sale data to monitor inventory turnover
Easily sync all the data from your Point-Of-Sale system, retail software, online store, and accounting software
Generate reports based on customer buying data
Help you integrate with the major retailers to reach even more customers
3.) Utilize Drop Shipping
One of the great things about an eCommerce store is that you don't have to have your inventory physically in your possession. You can sell a variety of products from a variety of suppliers. You never have to actually handle the products or pack them or ship them yourself. You also won't tie up a lot of your capital in inventory that may or may not sell quickly. The drop shipper will simply send out the order for you and they will even send it using your own branded packaging materials and paperwork.
4.) Delegate and Outsource:
Depending on how big your operation is, you may have someone who is managing your inventory for you. They may be the ones making the counts and forecasting the inventory needs. Utilizing centralized software makes delegating this task much easier as you and your employees can all see the same data in real time.
We hope the first three articles in this series on Inventory Management has been helpful to you.   Please stay tuned as there is much more valuable information ahead.  In the meantime, if you need to replace and upgrade computers and peripherals, VAMBOA has partnered with Dell Technologies to offer members and friends significant discounts.  Please check them out here:  https://vamboa.org/dell-technologies/