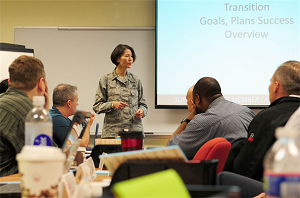 By Debbie Gregory.
When servicemembers shed their uniforms for civilian clothing, the desire to serve often remains. It's not uncommon for veterans to seek careers that allow them to leave a meaningful and positive impact on the people and teams they are responsible for.
As today's employers face challenges in hiring and retaining talent, they would be wise to take advantage of the talents skills and experience military veterans bring to the table.
Employers who go the extra mile to understand the impacts of the military transition will be at a greater advantage over those who don't.
Servicemembers who are leaving the military go through the federal "Transition GPS (Goals, Plans, Success)" program, which is designed to prepare them for life in the civilian world, but the program, which runs from 7-10 days, can fall short. Private sector employers, just by recognizing that there is still a lot of transitioning to be done, can aid in the process.
Too many options can be overwhelming for transitioning servicemembers. Employers should keep in mind that for a veteran who had limited choices in the military and is now faced with a completely blank, wide-open landscape in front of them, choice can be paralyzing.
Remember that every veteran is an individual first and foremost, and they have different goals and dreams. But like most of is, they want to be accepted, liked and appreciated.
If you ask a question about their time in the military, be prepared for the answer. Or if they prefer not to talk about what they experienced, be respectful of that.
Keep in mind that committing your time, family, career and sometimes your life to serve your country requires a certain character. The person who serves believes it is the right thing to do, strives to serve others more than him or herself and chooses to celebrate the group success over individual recognition.