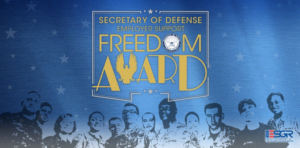 By Debbie Gregory.
The Employer Support of the Guard and Reserve (ESGR), a Department of Defense office, has opened nominations for the 2019 Secretary of Defense Freedom Award, commonly referred to as the "Freedom Award."
The Freedom Award is the highest Department of Defense award given to a civilian employer for exceptional support of Guard and Reserve service members. The award was instituted in 1996 by then Secretary of Defense William Perry, and has since presented the honor to hundreds of recipients.
Almost half of the U.S. military is made up of National Guard and Reserve members, many of whom also hold jobs with civilian employers. The Secretary of Defense Employer Support Freedom Award is the highest recognition given by the U.S. Government to employers for their support of their employees who serve in the Guard and Reserve.
Nominations must come from a Guard or Reserve member who is employed by the organization they are nominating, or from a family member. ESGR accepts nominations for employers in all 50 states, Guam-CNMI, Puerto Rico, the U.S. Virgin Islands and the District of Columbia.
Fifteen awards are presented in three categories – large (500 or more employees), small (fewer than 500 employees), and public sector.
National Guardsmen and Reservists nominated 2,350 employers for the Freedom Award in 2018. The winners were: Amazon, Seattle, Washington; AME Swiss Machining LLC, Ligonier, Indiana; ArgenTech Solutions, Inc., Newmarket, New Hampshire; Big Sky Advisors, St. Louis, Missouri; Crystal Group Inc., Hiawatha, Iowa; Duke Energy, Charlotte, North Carolina; Dunlap Police Department, Dunlap, Tennessee; FMI Corporation, Raleigh, North Carolina; Greencastle Associates Consulting, LLC, Malvern, Pennsylvania; Minnesota Department of Transportation, St. Paul, Minnesota; Slippery Rock University of Pennsylvania, Slippery Rock, Pennsylvania; South Charleston Police Department, South Charleston, West Virginia; Texas Department of Insurance, Austin, Texas; Werner Enterprises, Inc., Omaha, Nebraska; and Wicomico County Sheriff's Office, Salisbury, Maryland.
A national selection board comprised of senior Defense officials and business leaders select the award recipients.
If you have a "top boss" and would like to nominate him or her, you can do so by clicking here from now through December 31st.