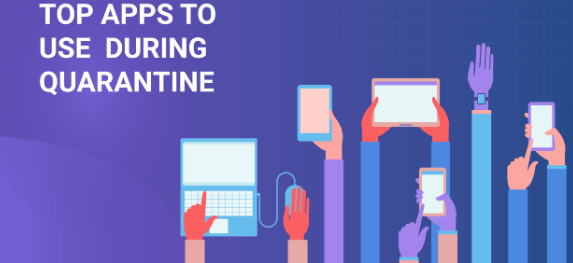 By Debbie Gregory.
It's a good bet that you are spending a lot more time on your phone, tablet or laptop than usual. Our devices can be a lifeline of sorts.  Below are a few interesting new apps that may help you beat some boredom during this difficult time.
COVID News: Apple's COVID-19 App:
Apple's COVID-19 app brings together almost everything that you need to know about the virus and staying healthy that is happening right now. It also includes information on what to do if you think you may have become infected. This app is updated constantly with verifiable information.
Cooking: Project Foodie: Guided Cooking:
You may or may not know your way around the kitchen. This app will help you learn to be an overall better cook. It breaks down recipes step-by-step in video format and is led by professional chefs.  It can also be a lot of fun and encourage you to try making dishes that you might never have done.
Learning: EdX and Duolingo:
EdX offers over 2,000 classes on just about any topic that you can image and then some. Duolingo is a language learning app that is structured more like a game. It is image heavy, fast-paced, and incentivizes you to keep going with small rewards. There are 35 languages that you can try, including fictional tongues like "Star Trek's" Klingon and "Game of Thrones'" High Valyrian.  Enjoy!
Social: Nextdoor:
Nextdoor connects you with neighbors in your specific neighborhood and some you may have never actually met in person. Though this app was popular and useful before the pandemic, it now it is a fantastic tool to help you connect with your neighbors and help each other out.   It provides you valuable information on what is happening in your neighborhood in a timely manner whether help finding a lost pet or which stores have toilet paper.
Relaxation: Stop, Breathe & Think:
This meditation app is designed to ease your mind and help you start to check and evaluate your physical and emotional well-being. The app analyzes your current state and gives you activities that will help you based on your own evaluation.  It includes things such as guided breathing, brief meditations or even calming compilations of cat videos.   This is a time with a great deal of stress and anxiety that is unhealthy for us so this app can be an excellent resource.
Exercise: Aaptiv, Peloton, and Runkeeper:
Aaptiv is an all audio-based app so you can start it, pop your phone in your pocket, and go! The Peloton app gives you 30-days of free guided workout videos (strength training classes, yoga classes, boot camps, and cooldowns too). The Runkeeper app tracks your runs and measures your progress. This one is a bit unique since you can earn rewards toward real-life training gear.  Exercise is very important, especially now and will help keep you emotionally and physically fit.
Games: Playing with friends: Heads Up! on Houseparty and Playing solo: The Sims Mobile:
Heads Up! on Houseparty is kind of like reverse charades that you play with one or more friends. The Sims Mobile is a fun condensed version of the popular videogame The Sims! You get to manipulate the life of a virtual person who can shop, date, throw parties, meet ghosts, buy homes, get a job, adopt a child, and so much more.   You can live vicariously through your virtual person.
VAMBOA is providing this information to be helpful and does not endorse any of these apps nor do we receive any compensation for featuring them.   If you have another app that will provide help or fun for others, please let us know.  Email:  info@vamboa.org.
STAY SAFE AND SOCIAL DISTANCE.