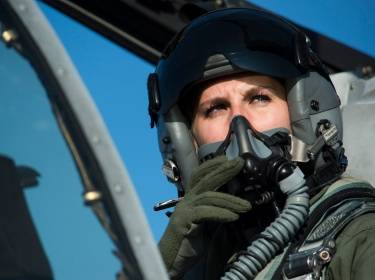 By Debbie Gregory.
It's been 25 years since female pilots were allowed in combat roles in the Air Force, but it's taking a little longer for their equipment to catch up. Female aircrew members have been wearing suits that were designed to fit men's bodies, not women's.
The Air Force is looking to improve the fit of its flight suits, and to do so, the service branch is getting feedback from those in the know- it's leaders and service members.There are more than 62,000 women serving in the Air Force, and more than 700 hundred of them are pilots.
"Over the past year, during numerous customer support visits and engagements with airmen, we received feedback from female aircrew members about concerns about the fit, performance, and availability [of] female aircrew flight equipment," said Col. Brady Hauboldt, program executive officer for Agile Combat Support at Wright-Patterson Air Force Base, Ohio.
Also under review is the gear needed to fly for hours on end, including bladder relief system for pilots, also known as "piddle packs," which were baggies lined with absorbent sponges. Now, flight crews are using an "Aircrew Mission Extender Device", known as AMXDMax, which is a hand-carried battery-powered pump to flow urine to a reusable collection bag.
"We've put together a team; it's a combination of Air Force Materiel Command and Air Combat Command to look at [this], and it's beyond uniforms," said Air Force Chief of Staff Gen. David Goldfein. "It's uniforms, it's gear, it's kit."
Preliminary recommendations to Goldfein are expected sometime this month.
"Those recommendations will then be prioritized and submitted for funding consideration," said Air Force spokeswoman Ann Stefanek.
The feedback is based on sample sizes that were previously delivered to all Air Education and Training Command bases for new airmen to try.
"As of August 2018, the Defense Logistics Agency had over 6,000 flight suits on hand (or due in) to properly equip our female aircrew," said Hauboldt.
It's about having "all of our equipment for all of our airmen sized for them, that fits them, that works in harsh environments … to include long periods of time of wearing that gear," Goldfein said. "We're flying missions over places like Syria and others where it's nine, 10 or even 11 hours in a cockpit. That doesn't allow you to move. And if you have ill-fitting gear for that period of time, it's going to affect how you do the mission."