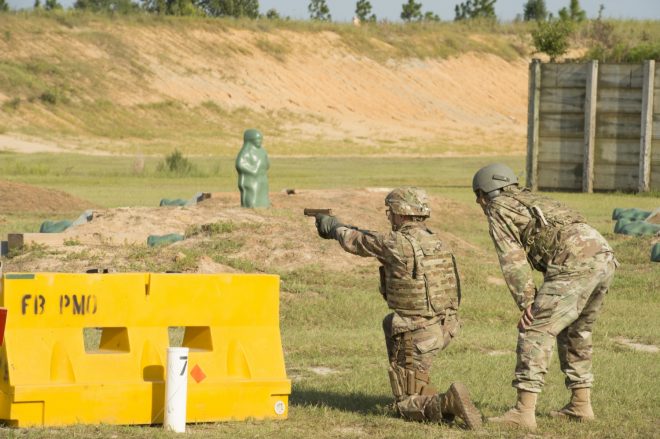 By Debbie Gregory.
The Army's new M17 Modular Handgun System has been put through the paces by Soldiers
at Fort Bragg's Range 29.
Testers included Army police, pilots, infantry and crew chiefs from Kentucky's Special Operations Aviation Regiment and Georgia's 3rd Infantry Division.
"We wanted to make sure that we have a huge sample to make sure that we've got this right — that the Army has it right, to ensure this personnel from across the service are taking part in the OTC's program," said Army Operational Test Command's Col. Brian McHugh.
Sig Sauer won the Army contract to supply the service's new sidearm, beating out Glock Inc., FN America and Beretta USA.
Shortly after the Army announced its selection of the P320 for the service branch's sidearm in February, Glock lodged a protest claiming not only that Army Material Command "improperly failed to complete reliability testing on Sig Sauer's compact handgun" due to a truncated testing timeline, but that the branch's "evaluations under the price, license rights, manual safety, and penetration factors and subfactors were flawed."
In June, the Government Accountability Office finally denied Glock's protest.
The M17 MHS is a derivative of the SIG Sauer P320 handgun which has interchangeable grip modules, suppressor support via a threaded barrel, interchangeable slide lengths on a single frame, and an integral optics mounting plate.
The M17 Modular Handgun System utilizes a much simpler and cheaper striker fired design than the previous M9 pistol.
The 101st Airborne Division (Air Assault) at Fort Campbell, Kentucky will be the first unit to receive the 9mm M17 MHS.