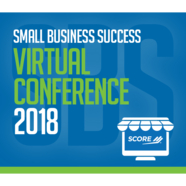 Don't miss the Small Business Success Virtual Conference on November 8, hosted by SCORE, a resource partner of the U.S. Small Business Administration. This half-day event offers educational webinars, one-on-one mentoring sessions, exhibitor booths, resource center and networking chat rooms to provide you with information for business success.
• Practical Strategies for Starting a Successful Business
• Smart Credit Strategies for Small Business Owners
• Make Your Website Work for You
• Hiring Hazards: How to Avoid the 7 Most Common Legal Landmines
• Every Contact Matters: The Value of Your List
• How to Choose the Perfect Location to Attract More Customers
• Small Business Loan Applications: Why are They Asking me That?
• The Top HR Issues Business Owners Face — and How to Solve Them
• Monetizing and Maximizing Your Business and Your Brand
Register at https://bit.ly/2D52FFv