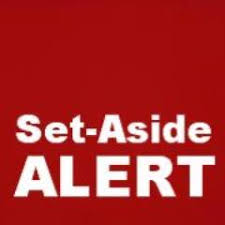 Veterans are uniquely qualified to secure government contracts due to the skills and experience they obtained during their military careers. Every year, the federal government spends approximately $500 billion on goods and services.  To maintain a level playing field, the Small Business Administration (SBA) works with federal agencies to ensure that at least 23% of all prime government contracts are awarded to small businesses. These are called "set- asides."
For Service-Disabled Veteran-Owned Small Businesses (SDVOSB), set-aside contracts can present outstanding opportunities.
There are two types of set-aside contracts: competitive set-asides and sole-source set-asides. With competitive set-asides, at least two small businesses may perform the work or provide the products being purchased, the government sets aside the contract exclusively for small businesses. With few exceptions, this happens automatically for all government contracts under $150,000.
Sole-source contracts are the type of contract that may be issued without a competitive bidding process. This usually happens in situations when only a single business can fulfill the requirements of a specific contract.
Pursuant to the SBA website, In order to qualify for the disabled veterans' business program, your business must:
Be a small business

Be at least 51% owned and controlled by one or more service-disabled veterans

Have one or more service-disabled veterans manage day-to-day operations and also make long-term decisions

Eligible veterans must have a service-connected disability
The certification process varies depending on the SBA contracting program. In some cases, you may self-represent your business to the federal government as being owned by a service-disabled veteran.  You need to update the socio-economic status section of your business profile at in the System for Award Management (SAM) at http:www.sam.gov.
The VA sets aside contracts for veterans through their Veterans First Contracting Program. Their program is not the same as the SBA's program. To obtain access to set-aside Veterans Affairs contracts, your business must be verified through the Vets First Verification Program at https://www.va.gov/osdbu/verification/
Veteran and Military Business Owners Association, VAMBOA,