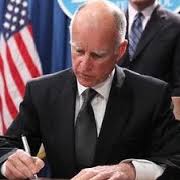 California Governor Jerry Brown has signed another veterans bill!  VAMBOA was proud to lend our support to AB 413-Chavez. The bill will allow the child or spouse of a disabled Veteran to enter into new Disabled Veterans Business Enterprise (DVBE) contracts after the death or disability of the Veteran, if the contract can be completed within the current three-year DVBE certification period. Doing so would provide the families time to continue the business after the death of a Veteran without an immediate end to the business.
"Veterans and their families make great sacrifices to protect our nation. Allowing these families to continue to run and operate a business after a death of not only a Veteran to them, but a parent or spouse is important. The cost of war is not only paid in sending our military to the battlefield, but it is also caring for them when they return. I am grateful the Governor recognizes this principle and supported this bill" said Rocky Chávez, the bill's sponsor.
Chávez is a retired Marine Corps Colonel, former City Councilman and former Acting Secretary of the California Department of Veterans Affairs. He represents California's 76th Assembly District, which includes Camp Pendleton, Carlsbad, Encinitas, Oceanside and Vista.