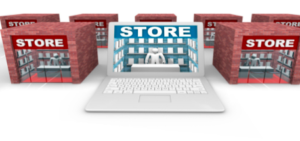 By James Pruitt, Senior Staff Writer
As discussed previously, brick and mortar stores will always play a crucial role in our retail economy. Various strategies can optimize marketing efforts for such establishments well into the digital age.
First, consider your team. Brick-and-mortar establishments require in-person staff. An effective team requires careful selection and training. Owners should consider the importance of well-prepared employees who can deal tactfully with a diverse public.
A labor shortage confronts us, which complicates the selection process. However, a well-developed, individualized training process can prevent complaints and in-store meltdowns, as well maximize customer satisfaction. A well-developed staff can strengthen the business from the foundations upward.
Second, think about the store layout, especially at the checkout stand. "Impulse buys" can garnish a business owner's bottom line. Furthermore, convenience and professional décor can improve the customer experience overall.
Consider space for events. Perhaps Santa can visit for Christmas, or the business can sponsor a local festival. Such promotions can even provide photo-ops that memorialize the business's engagement with the local community. 
Third, replace print signage with digital screens. These screens can facilitate updates as well as display several messages together.
We are past the days of constantly refreshing on-site advertisements by manufacturing physical signage. These advertisements waste money, time, and are bad for the environment. Digital screens can perform the same tasks in a way that is not only more economical but more engaging as well. 
Fourth, as we have discussed, entrepreneurs should not forget their digital marketing skills just because a physical building houses the core of the establishment. 
Within the store itself, Wifi marketing may provide a digital strategy to build a loyal following. Wifi marketing entails free Wifi in exchange for, perhaps, an email address. Starbucks users may be familiar with this marketing strategy. The business owner controls the homepage and may also collect email addresses for further advertising.
Providing free Wifi inside the store can facilitate the compilation of an email list and expand social media presence. However, beware of the ethical implications of data collection. Each year, respect for the privacy of consumers has assumed greater prominence.
Perhaps your customers do want to stay in the loop. Through social media, applications such as Eventbrite or Facebook Events can keep your clientele up to date about current events involving your company. The same efforts can keep your business at the forefront in the minds of your customers so that in times of need they will think of you rather than your competition.
Finally, remember the value of search engine optimization. Make sure to optimize your online presence so that you show up first in local searches. 
Careful website design is one such strategy. Other strategies may include plugging your business elsewhere on the Internet that may attract consumers interested in your product.
Consider the use of video in your Google my Business listing. This innovation adds continually refreshed video content right to the listing that comes with a Google search. 
Overall, remember the importance of the digital age even when setting up marketing practices for a brick-and-mortar store. At the same time, a wise store layout and skilled use of events and promotions can keep your establishment relevant in the twenty-first century. Brick-and-mortar will never die, and nothing can beat the face-to-face experience that comes with integration into the surrounding community, digital or otherwise.
VAMBOA, the Veterans and Military Business Owners Association hope that this article has not only been valuable but provided some unique perspective.  We work hard to bring you important, positive, helpful, and timely information and are the "go-to" online venue for Veteran and Military Business Owners.  VAMBOA is a non-profit trade association.   We do not charge members any dues or fees and members can also use our seal on their collateral and website.   If you are not yet a member, you can register here:  
https://vamboa.org/member-registration/
We also invite you to check us out on social media too.
Facebook:  https://www.facebook.com/vamboa
Twitter:  https://twitter.com/VAMBOA
Do not forget that VAMBOA members receive significant discounts on technology needs.   Check them out here:
https://vamboa.org/dell-technologies/