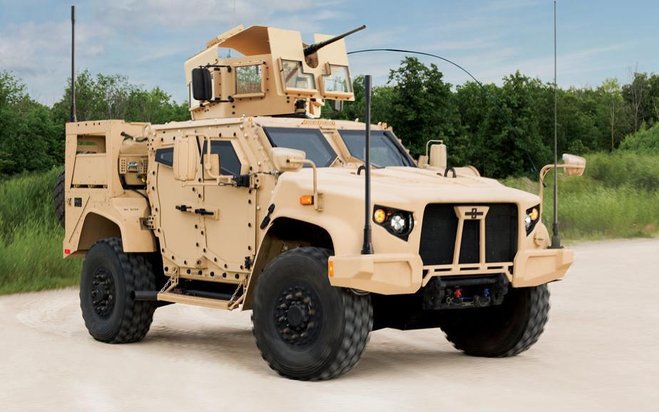 By Debbie Gregory.
Last week, Lockheed Martin Corp. officials announced that they have filed a lawsuit against the Pentagon over the U.S. Army's decision to award a $6.75 billion contract to Oshkosh Corporation.
The contract is to build a replacement for the Humvee combat vehicle.
The Army plans to buy about 55,000 of the multipurpose vehicles for its troops and the Marine Corps through 2040, spending an estimated $30 billion. Oshkosh in August was awarded the initial order for about 17,000 JLTVs, which are more heavily armored than the Humvees they will replace.
"After careful consideration of all options, Lockheed Martin decided to file a complaint with the Court of Federal Claims concerning our Joint Light Tactical Vehicle (JLTV) contract award process," the company said in an e-mailed statement. "We look forward to working with all parties involved on the next steps."
A hearing was scheduled for Friday before Judge Charles Lettow. Lettow granted Lockheed's motion to seal its complaint against the contract award. Lettow also sealed a Lockheed motion for an injunction in the case, but has not yet ruled on that move, court papers show.
The government's answer is due by February16th.
Oshkosh Vice President John Urias said he believed the court will uphold the Army's selection.
Oshkosh Corporation, based in Oshkosh, WI, was ranked the 48th largest American defense contractor for 2015 by Defense News. Lockheed Martin, based in Bethesda, MD, ranked first.
Urias stated that he had confidence in the Army's procurement process, which he said included "exhaustive testing and evaluation to ensure our troops get the best vehicle."
Because Department of Defense spending has been shrinking, competition for military contacts has tightened in recent years. While the number of contract protests filed with the GAO rose 5 percent in 2014 fiscal year, successful protests fell from 17 percent in 13 percent.