By Debbie Gregory.
The next few months are going to be challenging for all of us but we can get through it together.
Please enjoy this wonderful rendition of John Lennon's "Imagine" sung by Dr. Elvis Francois and accompanied by Dr. William Robinson.  Both of these physicians are from the Mayo Clinic in Rochester.  They performed this incredible gift after a hospital shift. Both are fifth-year medical residents with three months left to finish their program.
Dr. Elvis Francois is an Orthopedic Surgeon who grew up singing in his church choir as well as a few acapella groups. Dr. William Robinson is also an Orthopedic Surgeon licensed to practice medicine in Minnesota, Louisiana, and New York.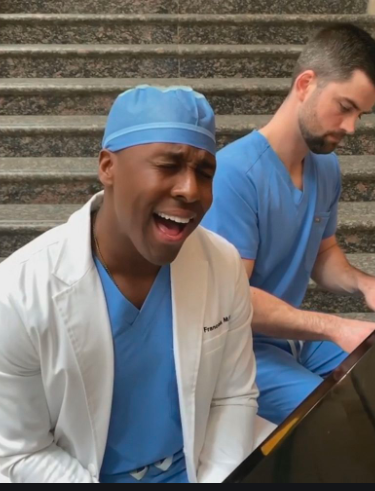 This video will lift your spirits a bit and make you realize that we are all in this fight together… Thank goodness for our medical professionals, fireman, police, teachers, delivery people, grocery clerks, and so many others who are keeping us going.
https://www.youtube.com/watch?v=nZBW0ZQGmyM
As the two doctors in this video say 'Music goes places that medicine can't go.' A message of peace, hope, and comfort during this difficult time.
Our CoronaVirus Playlist:
"Can't Touch This" – MC Hammer
"Can't Feel My Face" – The Weekend
"Don't Stand So Close to Me" – The Police
"All by Myself" – Celine Dion (Eric Carmen)
"Virus Alert" – Weird Al Yankovic
"Out of Touch" – Hall & Oates
"Touch Too Much" – AC/DC
"Rocking Pneumonia & The Boogie Woogie Flu" – Huey "Piano" Smith
"You'll Be Illin" – Run DMC
"I'm Not Sick, But I'm Not Well" – Blink 182
"St. James Infirmary" – Louis Armstrong
"You Give Me Fever" – Peggy Lee
"Lime in The Coconut" – Harry Nilsson
"Doctor! Doctor!" – The Thompson Twins
"Hot Blooded" – Foreigner
"Sick Again" – Led Zeppelin
"Somebody Get Me A Doctor" – Van Halen
"Remedy" – The Black Crowes
"The Cure" – Lady Gaga
"I'm Better" – Missy Elliot
Stay healthy and safe America.