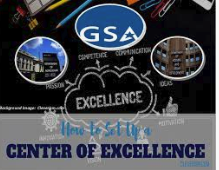 GSA's Centers of Excellence Will See Expansion This Year
By Debbie Gregory.
The General Services Administration (GSA) will be refreshing the acquisition model for its Centers of Excellence (CoE) initiative this year as it gears up for IT modernization.
The RFQ includes a challenge question to assess a vendor's technical capabilities in a functional area; a scenario question to evaluate a vendor's ability to collaborate with federal employees and other contractors in a cross-functional team; and another factor to test a contractor's ability to send a response with regards to one functional area. The challenge questions will be available through Google Forms beginning March 28.
The award for the BPA or Blanket Purchase Agreement is valued at $100 million and is set to last for three years from the date of award. The RFQ or Request for Quotation notes this is not a ceiling and the total value can exceed the $100 million without the need to modify the contract.
The program, initiated by the White House's Office of American Innovation, launched in December, 2017 as a way for GSA and industry to partner on targeted technology overhauls at selected agencies. beginning the process will be the Agriculture Department and the Housing and Urban Development Department.
"The CoEs are focused on establishing a model of private/public relationships for IT modernization efforts that will prove fruitful to both sides of the partnership.  The objective is to obtain and incorporate industry feedback.
According to Bob De Luca who is the Executive Director of the IT Modernization Centers of Excellence at GSA hopes to onboard more agencies this year and at a faster rate.
The next generation of the program will include the original five centers that are focused on cloud adoption, contact centers, customer experience, data analytics and infrastructure optimization in addition to two additional centers for change management and information security. Prospective bidders must hold GSA Schedule 70 contracts for the relevant special item number listed in the document.  The entire package is due by noon on April 1.
Veteran and Military Business Owners Association, VAMBOA,