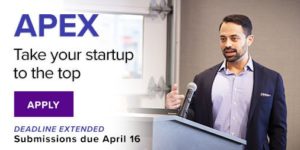 By Debbie Gregory.
An innovative entrepreneurship training program called Apex at New York University offers military veterans, DoD affiliates and their spouses the support and resources they need to start and grow high-impact companies. And because doesn't take equity, founders can guide their startups in the way that works best for their company.
In addition to providing free office space, mentoring and networking opportunities, the year-long program is now offering free housing to qualifying founders who are relocating to New York City, in shared apartments at Fort Hamilton Army Base, Brooklyn.
"We call it Apex because we want you to leave that program in a higher and better place than when you started," said James Hendon, director of the NYU Tandon School of Engineering Veterans Future Lab, home to Apex and other veteran-specific training programs. Hendon, himself a veteran entrepreneur, was one of the first to attend the lab's veteran-specific training.
"There are certain … skills that you bring from your military service," such as discipline, integrity and a "never quit ethos", Hendon said.
Unlike co-working spaces of non-curated companies and individuals, the Veterans Future Lab offers a community of military veterans and their spouses who are invested in each other's success.
Additionally, startups in the program receive valuable perks such as Amazon Web Services and Google Cloud Platform credits, PricewaterhouseCoopers accounting, and tools from partners such as IBM and Nvidia.
Companies enrolled in Apex can also apply for Start-Up NY, a state incentive that grants tax-free status to startups participating in the APEX program.
Apex grew out of a 12-week training program for veteran entrepreneurs that started in 2015, according to Kurt Becker, Tandon's vice dean for research, innovation and entrepreneurship.
Applications are open through April 7th for the next round of Apex, which will start in July and run through the following summer.
Veteran and Military Business Owners Association, VAMBOA,