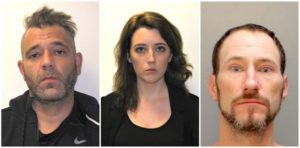 By Debbie Gregory.
We previously reported on the heartwarming story of homeless veteran Johnny Bobbitt using his last $20 to help supposedly stranded New Jersey motorist Katelyn McClure, who had run out of gas on Interstate 95 in Philadelphia.
It turns out that the story was completely fabricated, with Bobbitt, McClure and co-conspirator Mark D'Amico preying on the generosity of strangers to collect more than $400,000 to help Bobbitt get back on his feet. All three are facing criminal charges of theft by deception.
The money was collected through a GoFundMe page set up by D'Amico and McClure.
On the GoFundMe page, McClure wrote, "I wish that I could do more for this selfless man, who went out of his way just to help me that day. He is such a great guy, and talking to him each time I see him makes me want to help him more and more." Less than an hour after the couple set up the page to solicit donations, McClure sent a text message to a friend acknowledging the story was "completely made up."
Initially, GoFundMe spokesman Bobby Whithorne had said the company was working with law enforcement to ensure that Bobbitt got all the money raised for him. Now, the powers that be at GoFundMe are working to ensure that all monies will be returned to the donors.
Prosecutors began investigating after Bobbitt claimed he wasn't getting the money that had been raised on his behalf. He later sued the couple.
Investigators searched the Florence, New Jersey, home of D'Amico and McClure in September in order to determine what happened to the money they raised for Bobbitt.
Although it's not exactly clear where the money went, Bobbitt's attorney has said it's all gone.