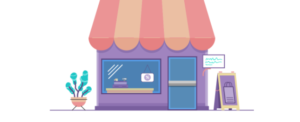 By James Pruitt, Senior Staff Writer
Within this blog, we have emphasized the trend toward online marketing. However, remember that in-store marketing still exists. Brick-and-mortar stores continue to prosper far and wide. No virus can demolish the brick-and-mortar of a boutique store that can offer in-person interaction. 
Make no mistake: no one can deny the importance of the shift toward an Internet economy. The online marketplace gives us impulse checkout, but brick-and-mortar entrepreneurs can always rely on the homeliness, comfort factor, and practicality of traditional shopping.
Within a brick-and-mortar store, many strategies can showcase an exciting new product. A kiosk with a live person can display pamphlets and distribute coupons. Live product demos can give samples and demonstrate the uses of a product that has made its way into your store's supply line. Also consider the store layout, the checkout experience, and product packaging.
Tiny, physical stores are far from endangered. Especially in smaller communities far from expensive downtown districts, actual physical "shopping districts" are very much alive.
First, packaging multiple, related products together can provide suggestions about ways to use products. For example, packaging different kitchen ingredients together might provide a cooking tip as well as an introduction to the local culinary scene. Similarly, marketing a product with a service could build enough consumer confidence to wipe that gadget off the shelves.
Also, good product packaging may speak to the whims of an outsider who might not have seen the product in the past. Even many larger companies are novelties outside certain locales. Try purchasing fresh cheese curds in Arizona rather than Wisconsin, or Cincinnati-style chili in Texas. Creative packaging can attract curious visitors who simply even have not seen that kind of product in the past. 
Second, loyalty programs are not just for chain stores. Such programs can reward loyal customers with discounts while building a database of consumer information. Many stores even use QR codes to provide benefits to loyal customers. Other institutions may experiment with different methods. Small stores may be well advised to learn effective strategies to strengthen relations with their customer base, technical or otherwise.
Third, free samples of new products along with coupons can open a floodgate of curious customers. Smaller physical stores may have access to local supply chains. These establishments may have inexpensive links to fresh produce, local goods, or even toys or technical products. Distributing small amounts of inexpensively obtained local merchandise can win good favor with customers as well as the suppliers themselves.
Fourth, business owners should remember that the digital age is upon us despite the charm of the physical storefront. Even the most technologically inept should maintain at least the basics of a digital presence, including on social media. That website can give a sense of stability and legitimacy, as well as provide a seed for the creation of a wider fanbase.
Physical stores have the advantage of face-to-face interaction. Owners of small physical businesses should avail themselves of modern strategies to reach their customers. Small institutions are not "selling out" by learning simple methods to strengthen their marketing efforts. Your workplace should not only be a home-away-from-home for yourself, but for your customers, and Veteran Business Owners should use every means at their disposal to build that special place.
VAMBOA, the Veterans and Military Business Owners Association hope that this article has not only been valuable but provided some unique perspective.  We work hard to bring you important, positive, helpful, and timely information and are the "go-to" online venue for Veteran and Military Business Owners.  VAMBOA is a non-profit trade association.   We do not charge members any dues or fees and members can also use our seal on their collateral and website.   If you are not yet a member, you can register here:  
https://vamboa.org/member-registration/
We also invite you to check us out on social media too.
Facebook:  https://www.facebook.com/vamboa
Twitter:  https://twitter.com/VAMBOA
Do not forget that VAMBOA members receive significant discounts on technology needs.   Check them out here:https://vamboa.org/dell-technologies/