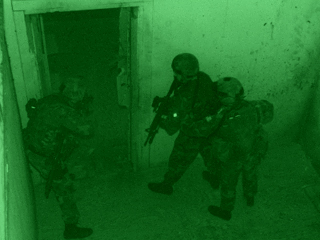 By Debbie Gregory.
In today's battlefield environment, it is critical for soldiers to be able to quickly locate and identify targets, especially during nighttime operations or when visibility is poor.
Currently soldiers use two different devices – basic night-vision PVS-14, and Enhanced Night Vision Goggle (ENVG.)  Both are single-tube, monocular style NVGs.
The Army began fielding the first generation of the ENVG in 2009 and has since fielded about 20,000 of the slightly improved ENVG II. The new ENVG III weighs about two pounds and features a wireless video interface between the weapon sight and goggle, so imagery from the weapon sight can be transmitted to the goggle and viewed via the goggle display in real time.
Now the U.S. Army is looking to develop new, double-tubed night vision goggles.
Maj. Gen. Paul Chamberlain, Director of the Army Budget office said that the double-tubed goggles will mean enhanced performance for soldiers.
"Primarily what it does is it provides additional granularity; it allows for quicker, easier movement when it's being worn," Chamberlain said. "It is just going to provide that ability to really speed up soldier movements and actions and it does help with depth perception."
It's still early days in the development process.
Currently, Infra-Red and thermal, or a combination of both can be used at the same time for night moves or anytime visibility is reduced.
The funds for the project will come out of the Army's Army's $10.2 billion Research, Development, Technology and Engineering account.
The first military night vision devices were introduced by the German Army as early as 1939, and were used in World War II.