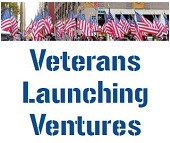 The Veterans Launching Ventures (VLV) program provides the skills and support that veterans need in order to seize entrepreneurial opportunities and launch small businesses if they so choose. It is offered by Fairleigh Dickinson University's nationally ranked Rothman Institute of Innovation and Entrepreneurship. One of its advantages over other veteran programs is that VLV veterans are each matched with a mentor who will assist and guide them for a period of 10 months following the completion of the 10-week course.
This unique program combines in-person instruction with online education to teach students the fundamental entrepreneurial skills required in today's business environment, as well as the competencies needed to launch a new business. Particular emphasis is placed on developing a robust marketing plan as well as a realistic business plan to help the veteran make an informed decision to start a business or assist and prepare the student for the general business environment.   A team of experienced faculty and successful entrepreneurs will work with the veterans, providing an interactive and informative experience. Over a 10-week period, they will introduce entrepreneurship ideas and concepts, and show how to apply them to potential business opportunities.
This certificate course will be taught at an undergraduate level and includes three workshops. Following a half-day introductory workshop and a lunch reception, the program will be taught online and facilitated by FDU instructors. The second workshop will take place at week 5 during which all students will present their marketing plans to the instructors and other students. The online instruction continues for 3 more weeks during which the focus is on developing a business plan. Week 9 allows the students to finalize their presentations with the assistance of instructors by phone and mentors by phone or in person (by week 9 each student will have been assigned a mentor to work with the student). The third workshop will take place in week 10 during which there will be in-person, individual final presentations by the students to the panel (which includes the student's mentor), feedback, and "next steps" planning.
The graduation and reception will take place at the end of the presentations on the final day; it will include the instructors, guest speakers, business leaders, and mentors. Included in the program is a complimentary admission to a full year of the Rothman Institute's popular entrepreneurship and innovation events (a $900 value).
The program is free and open to all veterans as well as their spouses and/or children. The cost of the program is being fully supported by the generous support from The Walmart Foundation, TD Bank, Bank of America, American Legion Post 43, and Fairleigh Dickinson University's Silberman College of Business. A refundable deposit of $175 will be required of veterans who participate in the program.   This deposit will be secured by credit card or check, and will be returned to the veterans who successfully complete the course. The next in-person class begins on March 31st, 2016 in Madison, NJ. A strictly online version will also be available for veterans this coming spring. For additional information visit: http://fdu.edu/vlv