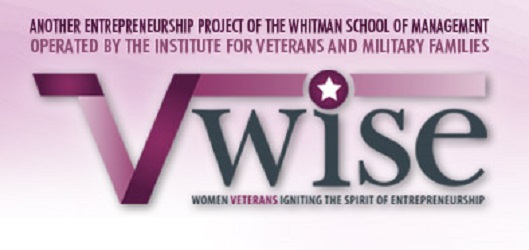 By Debbie Gregory.
The Veteran Women Igniting the Spirit of Entrepreneurship (V-WISE) program was recognized as one of 2015's "Bright Ideas" by the Ash Center for Democratic Governance and Innovation at the John F. Kennedy School of Government, Harvard University.
V-WISE is offered through a partnership between the U.S. Small Business Administration (SBA) and the Institute for Veteran and Military Families at Syracuse University. The program provides comprehensive entrepreneurial training to women Veterans, active duty and female family members.
As part of a three-phase program, V-WISE is being offered to 200 participants per session. The program includes a growth track for participants already in business, and start-up training for new entrepreneurs.
"V-WISE is an important and timely resource for women, and we're proud of the successful entrepreneurs who have used this program to start and grow their companies," said SBA Administrator Maria Contreras-Sweet. "Being recognized by Harvard University is a confirmation of a successful partnership making strides to support the small business ownership dreams of so many women Veterans."
For consideration as one of the Ash Center's Bright Ideas, a program must currently be in operation or in the process of launching, have sufficient operational resources, and be administered by one or more governmental entities.  Nonprofit, private sector, and union initiatives are eligible only if they are operating in partnership with a governmental entity. Bright Ideas are showcased on the Ash Center's Government Innovators Network, an online platform for practitioners and policymakers to share innovative public policy solutions.
The V-WISE program was singled out by the Ash Center as a creative government initiative that deserves to be recognized and replicated. The Government Innovators Network was launched by the Ash Center in 2003 to highlight original ideas generated by government leaders and their public sector partners. This is the fourth cohort recognized through the Bright Ideas program, an initiative of the broader Innovations in American Government Awards program.
The Veteran and Military Business Owners Association (VAMBOA) is a non-profit business trade association that promotes and assists Veteran Business Owners, Service Disabled Veteran Owned Businesses (SDVOB) and Military Business Owners. Small businesses are the backbone of our economy and responsible for job generation. That is why VAMBOA provides its members with Business Coaching, Contracting Opportunities, a Blog that provides information, Networking contacts and other resources. Membership is FREE to Veterans. Join Now!
VAMBOA: Joint Program for Female Veterans Honored by Harvard: By Debbie Gregory