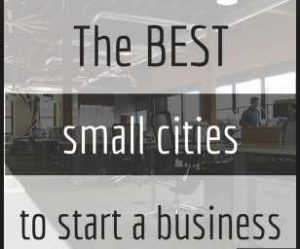 By Debbie Gregory.
Where is the best place to start your business? Below we have listed the top ten cities and chosen them based on seven key indicators that include:   rate of entrepreneurship; wage growth; job creation; population growth; net business creation; high-growth company density; early-stage funding deals:  The cities in descending order are:
10 – Portland, Oregon – Portland is experiencing a construction boom. The two sectors that are projected to grow the most over the next decade are health care and computer and electronics manufacturing. Currently, the startup areas that are booming include tech companies, early-stage food companies, and apparel companies.
9 – Orlando,Florida –  Orlando has become a high-technology hub with more than 200 aerospace and aviation companies in the city. Additionally, its modeling and simulation industry, that designs programs used for both military training and to power rides at the nearby theme parks, provides more than $4 billion in annual contracts.
8 – Denver, Colorado – Denver is growing due to technology such as A.I. and machine learning, followed by block-chain and cryptocurrency,
7 – San Diego, California – San Diego is the place for startups focused on life sciences, aerospace and biotech.
6 -San Jose, California – San Jose is home to three of the world's most valuable companies–Apple, Google, and Facebook but there is a critical shortage of office space.  Housing is challenging with San Jose having some of the highest housing costs in the nation.
5 – San Francisco, California – Just north of San Jose, San Francisco is the birthplace of some of the most successful startups, including Uber, Airbnb, and Slack. San Francisco also has astronomical commercial rents and housing costs even higher than San Jose.
4 – Nashville, Tennessee  – Nashville has more than just a thriving music economy; the city's biggest industry is health care. There are also more than 20 college and university campuses and is home to more megachurches than anywhere else in the country.
3 – Raleigh, North Carolina – Raleigh has been transformed into a software hub. The Research Triangle of Raleigh, Durham, and Chapel Hill boasts the fourth most educated population in the country, and forty-seven percent of the local talent pool holds a bachelor's degree or higher
2 – Salt Lake City, Utah – Salt Lake has more than great snow. Tech giants such as Adobe, Electronic Arts, and Oracle all have offices there. The city is also one of the most affordable tech-centric places to live making it very desirable.
1 – Austin, Texas – Austin has an extremely reasonable cost of living, loads of sunshine, well-educated people, and a fun streak.  Texas also does not have any state income tax making it highly desirable. Tech giants including Google, Facebook, Amazon, and Dropbox have all established large presences in Austin. Apple has announced it will be investing $1 billion to build a new campus that can eventually hold 15,000 new employees. There are also thriving startup scenes in food and drink, computer hardware, enterprise software, and consumer tech.
Veteran and Military Business Owners Association, VAMBOA,