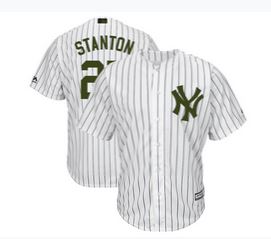 By Debbie Gregory.
Lids.com abandoned a recently-unveiled online ad campaign after receiving a dressing-down from the Marine Corps.
The advertising campaign mentioned the Marine Corps in selling jerseys to be worn over the Memorial Day weekend by Major League Baseball teams including the Pittsburgh Pirates, New York Mets, San Francisco Giants, Texas Rangers, Colorado Rockies, Houston Astros, Boston Red Sox, Chicago Cubs, Los Angeles Dodgers, Cleveland Indians, Seattle Mariners and Detroit Tigers.
One ad read, "Honor the U.S. Marine Corps brave men and women with this authentic New York Yankees Giancarlo Stanton Majestic MLB Men's USMC Cool Base Jersey."
The Army, Navy, Marine Corps, Air Force and Coast Guard all have a trademark licensing office in order to control their logos and slogans. Revenues generated from licensing products support morale, welfare and recreation programs worldwide.
The Marine Corps does not currently have a licensing agreement in place with Lids or Major League Baseball.
Nick Francona, son of Cleveland Indians manager Terry Francona, is a former Marine who doesn't mince words regarding profiting from those who served and made the ultimate sacrifice.
On the Friday before Memorial Day, Francona tweeted, "How about a Friday scavenger hunt? Who can find the 501c(3) filings showing specific details on MLB's donations related to the proceeds from the sale of Memorial Day apparel the past few years? It's a charity after all, right?"
In another tweet, Francona wrote "You have to hand it to @NewEraCap, @lids, and @MLB. It's not often that you can combine callous exploitation and ignorance of the fundamental tenets of democracy in such an efficient manner."
Besides these call-outs, Francona's Twitter page is filled with tributes to the fallen. In his quest to make sure that they are not forgotten, Francona made personalized wristbands with the names of specific U.S. military veterans who died while serving overseas and distributed them to players and coaches with connections to the hometowns or schools where the deceased veteran was from.