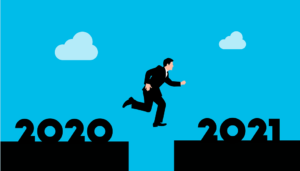 By Debbie Gregory.
I think that we just need to move on to 2021 and leave 2020 in the rear window to fade away. This has been a challenging year for everyone, especially for Small Veteran and Military Business Owners.
We commend you for staying the course during these unprecedented times.   We have all had to adapt personally as well as professionally in how we operate our business.  Many of us are working harder and having to do more with less.  We are also doing things differently including working remotely and virtually creating and/or attending online events/conferences and training.  Many businesses have had to shut down physical operations and expand their online offerings.
VAMBOA, your Veterans and Military Business Owners Association works hard to bring you informative and timely information that will help your business.  We try to provide at least two or three new articles weekly on our Blog.  We hope you are not only enjoying the articles but are also gaining value from them.
We also try to provide you tips on the new skills needed to move your business forward as well as various loan programs that will provide you financial assistance.  Next year, we will be featuring and telling the stories of some of our members.  If you are interested in telling your story, please email me at:  info@vamboa.org.
I want to personally extend our sincere gratitude and thank our members, sponsors and those who have supported us during the year (you know who you are).   We appreciate you so very much.
This holiday season is unlike any other, to cap off a year unlike any one in our history Throughout this season, and as we move into a new (and hopefully better) year, we wish you moments of peace amid the difficulties, connections with family and friends even if they cannot be in person, the warmth of memories from holidays past, and wonderful glimpses of the joy that still lives under the surface.
Our holiday wish for each of you is health, happiness, and prosperity.   Hope is on the horizon with several viable vaccines and treatments for COVID 19.  Without health, none of us can prosper so please keep yourselves, your loved ones, and employees safe.
Acts of Kindness are important and rewarding to both the recipient and the giver.   You may enjoy this article on "Kindness Changes Everything."
https://vamboa.org/?s=Kindness
Sincerely,

Debbie Gregory
CEO & Founder, VAMBOA (Veterans and Military Business Owners Association)
The "Go To" Association for Veteran and Military Business Owners
With over 8,000 Registered Members and almost a quarter of a million fans and followers
Membership is free – to join go to:  https://vamboa.org/member-registration/
Special End of Year Technology Discounts (up to 50% off) Only for VAMBOA Members & Friends: https://vamboa.org/dell-technologies/