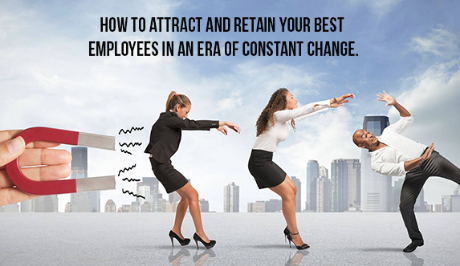 By Debbie Gregory.
Today's employees have much more sway when it comes to their work environments, benefits, and job perks than ever before.
If you are looking to find, hire, and retain top talent in any field, there are some expectations from the candidates that you need to meet:
Flexible schedules
Flexible and adaptable workplace design
Connected to nature
On-site health and wellness
Flexible Schedules:
This is one of the number one issues and benefits that employees today demand.  Flexible schedules also ranks amongst the top two reasons why employees will stay with an employer.
Flexible scheduling can be accomplished in numerous ways and you may consider offering:  
Flexible hours
More paid time off
Days that can be worked from home
Flexible and Adaptable Workplace Design:
The days of endless rows of cubicles are in the past. Today's employees do not want to sit in a small area with fluorescent lighting surrounded by their fellow workers in their cubicles.   You need to think outside of cubicles when planning your workspace areas.
You might consider offering your employees a variety of individual and group workspaces including:
Lounge areas with laptop tables
Sit-to-stand workstations that are becoming very popular with lounge areas
Conference rooms available for general use at any time
Informal meeting rooms with comfortable chairs
Casual work areas with high-top tables and barstools
Many progressive employers also include pool tables, ping pong and games in the workspaces.
Connected to Nature:
Employees are tired of being kept in workspaces that have artificial lighting, heating and cooling in a cubicle type setting They want to enjoy the hours they are required to be indoors at work. Many employers are shifting to more natural light sources with better outdoor views, more plants and outdoor space.  They are finding that the time spent outdoors dramatically increases employee happiness and productivity. Keeping in mind the importance of nature and natural elements in the workplace really increases employee morale.
On-site Health and Wellness:
More employees expect their employers to care about and help foster their well-being, including their mental health and well-being.   This is a win/win for both. Happy and healthy people are more energized and engaged with their work.  This increases productivity and can even reduce the overall cost of healthcare.
Some examples of ways your company can do to help promote better health:
Offer mental and financial wellness education, through literature, seminars, and webinars
Offer on-site flu shots, biometric screenings, and massages
Many large companies have their own medical team with one or more Physician Assistants and/or Nurse Practitioners making it simple and convenient for their employees.
Offer healthy food and beverage options if you have a stocked break room or cafeteria.
Try to add a regular catered lunch that includes healthy foods, vegetarian options, and salad bars
Try adding some fitness challenges that are focused on promoting holistic health
Build a wellness room with exercise and stretching equipment including offering classes such as Yoga and Pilates.
Utilizing forward thinking and a bit of creativity when planning your workspaces, employee benefits work schedule, and more will go a long way towards attracting and capturing the eyes of top-performing employees that are excited to work for you.  They will be more productive and will stay with the company putting forth their very best work.  Healthy and happy employees are a recipe for success and avoid the financial of other costs of employee turnover.