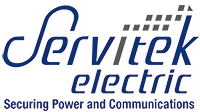 Each year, during National Small Business Week, the U.S. Small Business Administration (SBA) District Offices recognize various small businesses for their contributions in their community.
The SBA Los Angeles District Office awarded Geoffrey Reyes of Servitek Solutions the 2017 Veteran Business Champion of the Year Award. The award is given to an individual who has fulfilled a commitment to advancing small business opportunities for veterans of the U.S. Armed Forces.
Servitek Solutions, Inc. is an electrical construction company based in City of Industry, California. Under the skilled leadership of Reyes, Servitek grew from a part-time engineering consulting service operating out of a spare bedroom to a full-service, multidisciplinary electrical contracting company. Servitek builds electrical, data, security, and transportation infrastructure for public works.
Reyes separated from the Navy in 2000.  He obtained his Master's degree in Engineering Management and worked in the private sector defense industry for five years. His entrepreneurial character, natural negotiating skills and passionate attitude fueled his desire to start his own business. In 2008, Servitek Solutions, Inc. was born.
Reyes is also an avid speaker at various contract readiness workshops, and is featured in the Department of General Services Disabled Veteran Enterprise (DVBE) program.  He also is one of CalVet's DVBE Advisory Council members.
VAMBOA, the Veterans and Military Business Owners Association congratulates Geoffrey Reyes and Servitek.
Here is a collection of places you can buy bitcoin online right now.