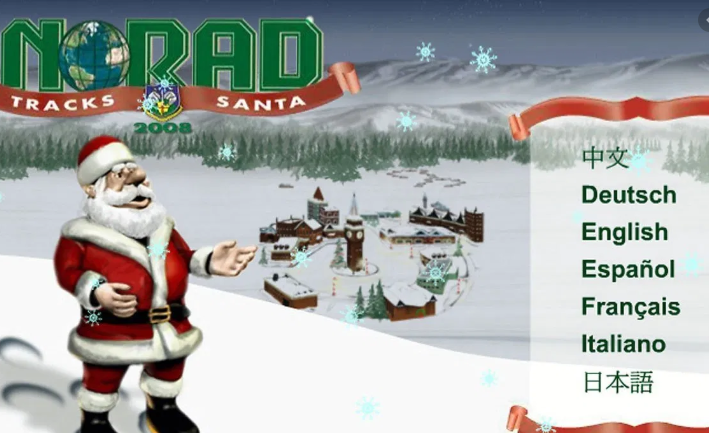 By Debbie Gregory.
24/7 and 365 days a year, NORAD tracks everything that flies in and around North America in defense of our homelands. On Christmas eve, they have the very special mission of also tracking Santa.
NORAD stands for the North American Aerospace Defense Command.  NORAD's Christmas tracking of St. Nick using satellite systems, high power radars, and jet fighters is run entirely by both military and civilian volunteers, almost 1,500 of at Peterson Air Force  base in Colorado.   It is funded by the Department of Defense's budget.
It began 64 years ago on December 24th in 1955, the Santa tracker became a Christmas Eve tradition after a mistaken phone call to the Continental Air Defense Command in Colorado Springs, Colorado, in 1955. CONAD, (NORAD's predecessor) as it was known, had the serious job of monitoring a far-flung radar network for any sign of a nuclear attack on the United States.
The North American Aerospace Defense Command is a joint U.S.-Canadian operation that protects the skies over both countries.  NORA has taken over the Santa tracker since the tradition started. The military command center embraced and expanded the Santa tracking mission and has been rewarded with a bounty of goodwill and positive publicity
When Col. Harry Shoup picked up the phone that day, he found himself talking not to a military general, but to a child who wanted to speak to Santa Claus. A Colorado Springs newspaper had run an ad inviting kids to call Santa but mistakenly listed the hotline number.
Colonel Shoup figured out what had happened and played along. The tradition has since mushroomed into an elaborate operation that attracts tens of thousands of calls every year.  These calls are answered by wonderful volunteers and this adds to holiday spirit with the wonder of the children.
To provide an idea of the reach of NORAD's Santa tracker, last year NORAD Tracks Santa drew 126,000 phone calls, 18 million website hits, 1.8 million followers on Facebook and 179,000 more on Twitter.  Santa and his sleigh may have had a hard time staying under the radar thanks to the site, which is accessible in English, French, Spanish, German, Italian Japanese, Portuguese, and Chinese.
"NORAD uses four high-tech systems to track Santa–radar, satellites, Santa Cams and fighter jets," reads the NORAD Santa Web site. "Tracking Santa starts with the NORAD radar system called the North Warning System. This powerful radar system consists of 47 installations strung across the northern border of North America. On Christmas Eve, NORAD monitors the radar systems continuously for indications that Santa Claus has left the North Pole.
The moment that radar indicates Santa has lifted off, NORAD uses their detection system. Satellites positioned in geo-synchronous orbit at 22,300 miles from the Earth's surface and are equipped with infrared sensors, which enable them to detect heat. Amazingly, Rudolph's bright red nose gives off an infrared signature, which allow satellites to detect Rudolph and Santa.
The third tracking system is the Santa Cam network. NORAD began using this in 1998, the year they installed the Santa Tracking program on the Internet. Santa Cams are ultra-cool, high-tech, high-speed digital cameras that are pre-positioned at many locations around the world. NORAD only uses these cameras once a year on Christmas Eve. The cameras capture images and videos of Santa and his reindeer as they make their journey around the world
The fourth system is made up of fighter jets. Canadian NORAD fighter pilots flying the CF-18 intercept and welcome Santa to North America. In the United States, American NORAD fighter pilots in either the F-15 or the F-16 get the thrill of flying alongside Santa and his famous reindeer: Dasher, Dancer, Prancer, Vixen, Comet, Cupid, Donner, Blitzen and, of course, Rudolph.
Still, despite all that, "Santa is hard to track," said Public Affairs Specialist Joyce Frankovis. "We actually never know which route Santa's going to take.  It is just a matter of using that high-tech equipment to track him."
The Santa Tracker call center opens at 6:00 am EST on December 24th.  Kids can call 1-877-HI-NORAD or 1-877-466-6723) or email:  noradtrackssanta@outlook.com to find out where Santa is.   The NORAD Santa trackers warned that Santa only comes if children are asleep so make sure they get to bed early, so he does not miss your house.   Enjoy tracking Santa and make sure you leave some milk and cookies for him and some carrots for his reindeer.
This year, children and the young-at-heart can track Santa through Facebook, Twitter, YouTube and Instagram.
For more information about NORAD Tracks Santa, please visit www.noradsanta.org
For more information about NORAD, please visit www.norad.mil