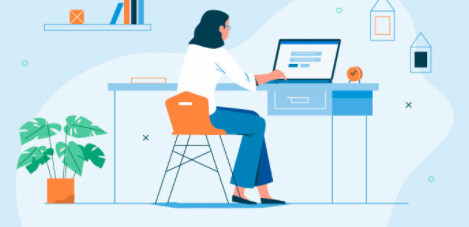 By Debbie Gregory.
In Part 1 of this mini blog series, we addressed how to keep your body healthy while working from home. In Part 2, we will go over technology needs when working from home.
We want to remind all our readers, that Dell Technology is offering VAMBOA family and friends very large discounts.   We will include some information at the bottom of this article on connecting on these significant discounts only for our family and friends.
When it comes to technology, you need to make sure that you have all of the technology that you need and the all of your technology is work-at-home ready so that you can be productive.  Below are some additional recommendations:
1.) Get Your Computer Up to Speed:
Your computer is your most important and your #1 work tool.  It is going to make you happier and more productive if it is as quick, up-to-date, and able to handle whatever programs you need to run to do your job.
Below are a few questions to consider regarding your computer:
Is your computer performing up to par?
Does it take a frustrating amount of time to boot, load programs, or open up files?
Do you have home internet access?
Is your home internet speed fast enough to allow you to do your job?
Do you have all of the software that you need to do your job?
If you need access to off-site data or databases, do you have that access setup?
If your computer cannot handle your most basic tasks, then it is time to either clean it up or replace it with a faster computer.
2.) Do you Have All the Right Technical Accessories?
Make sure that you have all the correct accessories for your computer that you need to do your job efficiently.
Consider adding items such as:
An ergonomic mouse and keyboard
A better monitor
A second monitor (for dual-screen use) and perhaps even a third monitor
A webcam
A headset
You also need to keep your computer and the data you create/save/access safe… and since you are now at home you may be on your own to do so.
3.) Make Sure That You Have Good Computer Security:
Constantly being connected to the web leaves us all vulnerable to attacks, hackers, phishers, and identity thieves. You need to be sure that you are protected with good antivirus, antimalware, and antispyware software.
4) Consider Using A Password Manager:
Proper password management is especially important if you handle or access other people's sensitive data as part of your job. Passwords are one of the top sources of frustration in our world today. We all know that we need to have strong, unique passwords for every account we have. However, how do you keep track of all of those passwords?
Password managers are a great choice to help keep your passwords and accounts safe. A password manager stores all your passwords securely and syncs them across all of your devices.
Last, but certainly not least, who will you call if any of your equipment needs service?
5.) Technical Support:
This may be one of the scariest parts for most people who work from a home office. If something goes wrong in a typical office setting, you simply call the IT department and they take care of everything. At home, who can you call? Who pays for the service?
The answer to both of those questions really depends on the type of work that you do and your employer. What are their policies for tech support for their remote workers? If they provide support, great! If not, it is in your best interest to shop around for a local computer company that you can trust to take care of you in the event of a problem.
Working from home remotely can be wonderful and provide so much flexibility.  You must make sure that you take care of yourself and your tech as best you can.
If you need to update your computers, peripherals and more, our friends at Dell are offering VAMBOA, Veteran and Military Business Owners Association members, family, and friends some exceptional discounts.   If you are interested in checking them out, please go to this link: