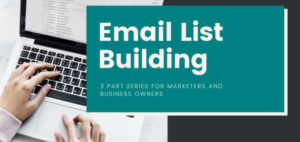 By James Pruitt, Senior Staff Writer
How can we start potential customers on the journey down the "sales funnel?" For the uninitiated, a "sales funnel" is a marketing term describing the trip of a potential customer from prospect to buyer. As discussed in the previous article in this series, one "Golden Rule" prevails in email marketing. "Avoid spam." 
So how do we avoid "spam" as email marketers? The most effective email marketing efforts channel is through voluntary opt-in. Examples might be newsletters, online classes, and games. The worst sin would be to purchase an email list, which some marketers do.
Nothing alienates quite like an unsolicited email. For this reason, the most successful marketing efforts piggyback onto existing online communities with an engaged user base. 
Choosing a relevant community sets the entrepreneur on a path to gracefully and unobtrusively distribute a sales pitch. Your own website might provide an excellent starting point. Web design should include mechanisms to collect email addresses from interested parties. Popular methods might include quizzes and surveys, which may also provide valuable information about your client base. Directing ads through social media may provide another outlet for your pitch.
Facebook, Instagram, and YouTube offer special methods for targeting audiences. Each of these platforms offers methods to harvest followers by engaging with relevant topics. A good email marketing campaign converts these followers into recipients of an email list. The importance of an email list comes from the control the owner can exercise. A social media platform can change its policies regarding sales pitches. These changes can interfere with your relationship with your followers. With an established email list, the relationship is between you and your client base.
After the establishment of an email list, marketers should maintain the interest of the recipients. 
First, don't email every day. Business owners should ensure not to exasperate their audience or crowd their inboxes. This is what spammers do. 
Second, a healthy email list has relevant and interesting subject lines. The message should stand out amidst the flood of offers that crowd the typical inbox. Managing the inbox should involve refreshing the trove of marketing ideas and maintaining an evolving relationship that snatches the readers' attention. In other words, keep them clicking. We want to keep our message out of the users' spam or trash boxes. 
Third, the content itself should matter. Ongoing relevant content should stay within the bounds of what the recipient signed up for. Don't email about golf when your base wants to know about basketball.
Fourth, as subscribers, the recipients should receive special perks and offers. These exclusives may include webinars, audio seminars, or special discounts. 
Email can be a remarkably cost-effective method for disseminating a sales pitch. However, due effort should separate your messages from the regular spam that regularly pollutes most inboxes. Effective strategies to create the email list should responsibly collect engaged users whose interests coincide with the goals of the business. Following the creation of such a list, effective email list management allows a business to control its message while remaining relevant to the user. 
VAMBOA, the Veterans and Military Business Owners Association hope that this article has not only been valuable but provided some unique perspective.  We work hard to bring you important, positive, helpful, and timely information and are the "go-to" online venue for Veteran and Military Business Owners.  VAMBOA is a non-profit trade association.   We do not charge members any dues or fees and members can also use our seal on their collateral and website.   If you are not yet a member, you can register here:  
https://vamboa.org/member-registration/
We also invite you to check us out on social media too.
Facebook:  https://www.facebook.com/vamboa
Twitter:  https://twitter.com/VAMBOA
Do not forget that VAMBOA members receive significant discounts on technology needs.   Check them out here: https://vamboa.org/dell-technologies/