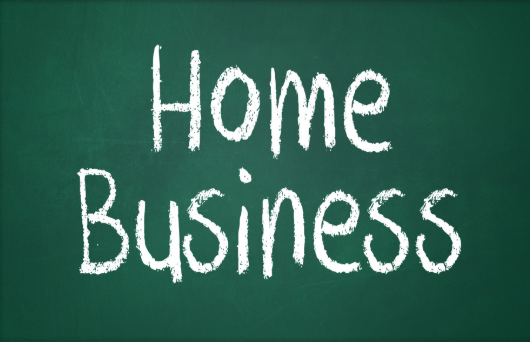 By Debbie Gregory.
Part 1

Most businesses start small and some even choose to stay that way. Large corporations such as Amazon and Apple began in garages. According to the Small Business Administration (SBA), 50% of all firms in the U.S. currently are home-based. If your business idea is worth pursuing, don't be afraid to start it at home. Working from home will require some forethought and discipline to stay on task.
To help ensure success, here are a few tips for starting and operating a home-based business:
Starting Your Business:
1.) Make sure your business idea is a good one:
Successful businesses, products, and services solve a problem that customer's face. Make sure that you properly research your business idea before you begin to invest time, energy, and money. No one wants to waste what resources they have on an idea that will never get off the ground.
Search Google, YouTube, and other relevant sites to make sure that the product or service you want to provide doesn't already exist. If it does, figure out ways to improve it or make it more distinguishable from what will be your competition.
Make sure that you create a comprehensive business plan to help organize your ideas, business goals, how you plan to make a profit, and all estimated expenses. Create a prototype (if applicable), and test it, to help you determine how the market will receive your product. Determine the right price for your product by determining the cost to manufacture and what your competitors charge and letting you know what customers are willing to pay.
2.) Obtain a business license:
Even home-based businesses need a business license and this is especially true if you plan to sell goods or services to customers. This allows your revenue to be tracked for taxation by your local city. Check with them for information on obtaining and renewing your license.
3.) Obtain business the insurance:
It is always a good idea to proactively protect yourself. Most businesses need professional liability insurance and general liability insurance; You may need additional coverages too. Consult an insurance professional to see what type of insurance your business will require.
4.)  Brand your business:
Branding your business is vital to your success. Branding offers consistency throughout all promotional channels (such as your social media, ads, newsletters, and more), it generates your unique identity, and can increase your perceived professionalism. Plan to pay a professional to develop a good logo, website, social media pages, business cards, unique packaging materials, and other marketing materials (brochures, flyers, coupons, signs, etc.) that you will need to effectively brand yourself and market your offerings.
5.) Build your team:
Unless you plan to run the business alone you will need to build a solid team of like-minded individuals. Make sure that you have already clearly established your goals for your team and work environment and then find candidates that share your vision for the culture you want to foster and make sure that they have a strong desire to help your business grow.
6.) Taxes:
There are different laws and taxes for home-based businesses, and it is always a good idea to fully understand how your taxes will change as.  There are quite a few deductions for home-offices such as mortgage, rent, utilities, real estate taxes, repairs, maintenance, upgrades, and more. It is always a good idea to consult a tax professional before you begin your business.
7.) Do Not Stagnate:
As our world changes around us, we must be flexible and change with it. Your business model and goals will need to be able to adapt as consumer needs, economics, technology, politics, laws, and preferences in the market change. Stay on your toes and don't get too comfortable regardless of how successful you are becoming. You need to make sure that your product or service doesn't become stale in your market.
We encourage Veteran and Military Business Owners to join VAMBOA, the Veterans and Military Business Owners Association.   There are not any dues or fees charged to our members.  Here is a link to join:  https://vamboa.org/member-registration/