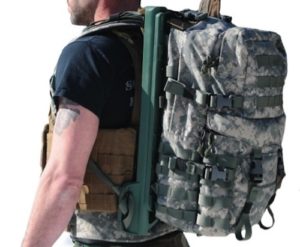 By Debbie Gregory.
A new pack-frame design using ground-breaking technology could be a game-changer when it comes to reducing fatigue.
Lightning Packs, LLC has developed a patented pulley/bungee cord system that allows it to slide up and down on a mounting of metal rods. This reduces impact forces on the user by 80 to 90 percent, and reduces the metabolic energy requirement by 40-80 watts. This allows a wearer to carry an extra 8-12 pounds "for free."
When people walk, their hips move up and down by as much as seven centimeters, which normally causes a backpack to bob up and down, too. That is bad news for the joints and back, because on its downswing the pack exerts added force on the wearer. A 50-pound load, for example, can slam down with 80 pounds of force when a person is walking and up to 150 pounds when running, says Lightning Packs' founder Dr. Lawrence Rome.
A video on the company's website demonstrates that when the pack is in the locked position, it bobs up and down as a normal pack would. But when the pulley system is activated, the pack appears to "float." As a person's hips rise, the mounting raises as well, but the bungee cords let the load dip down, limiting its movement.
"We first designed, built under contract, and delivered a series of ergonomic and electricity-generating backpacks for personnel of the United States Army and Marine Corps," according to the company's website. "The ergonomic benefits of our design have been field-tested and approved by soldiers themselves," the website states.
What was originally designed for the military and rescue workers could be a game-changer for consumers, especially for parents who have long been concerned  about the effects on the spines of their school-aged children who carry heavy loads of school books.
The company will be launching a Kickstarter campaign to raise funding for the consumer version, the "Hoverglide," sometime in September. The Hoverglide will be offered in several models for backpacking, commuting and light hiking. There will also be a tactical model which is about the size of a standard daypack or assault pack.