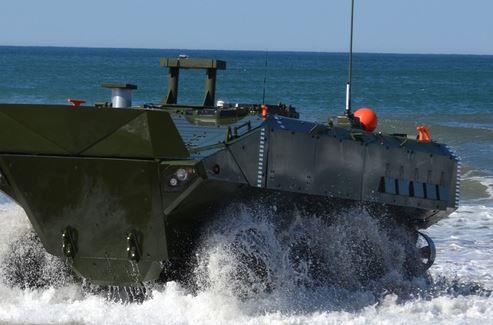 By Debbie Gregory.
British defense contractor BAE Systems has been awarded a $198 million contract to deliver an initial 30 Amphibious Combat Vehicles (ACV), with options for a total of 204 vehicles. The total contract could be worth up to $1.2 billion.
The vehicles will replace the current fleet, which has been in service since the 1970s.
BAE was chosen over Virginia-based SAIC, which had teamed up with Singapore Technologies Kinetics.
"We are well positioned and ready to build the future of amphibious fighting vehicles for the Marine Corps, having already produced 16 prototypes," said Dean Medland, vice president and general manager of Combat Vehicles Amphibious and International at BAE Systems. "Through this award, we are proud to continue our partnership with the Marine Corps by providing a best-in-class vehicle to support its mission through mobility, survivability and lethality."
ACV1.1 provides exceptional mobility in all terrains, and blast mitigation protection for all three crew and 13 embarked Marines, along with other improvements over currently fielded systems.
BAE conducted its own extensive risk mitigation testing and evaluation for land mobility, survivability, and swim capabilities that proved its vehicle's performance prior to delivering the first 16 prototypes to the Marine Corps in 2017.
The initial production vehicles will be delivered to the Marine Corps by the fall of 2019, with the Marines conducting initial operational test and evaluation in late 2020.
The 3rd Amphibious Assault Battalion on the West Coast will be the first unit equipped with the ACV 1.1, Marine Corps officials said.
After purchasing the 204 vehicles in the initial phase, the next phase will see BAE's development of the ACV 1.2, an upgraded platform that will hopefully be a replacement for the fleet of 870 amphibious assault vehicles.
Work on the program will be performed at the company's facilities in Aiken, South Carolina; Sterling Heights, Michigan; Minneapolis; Stafford; San Jose, California; and York, Pennsylvania.