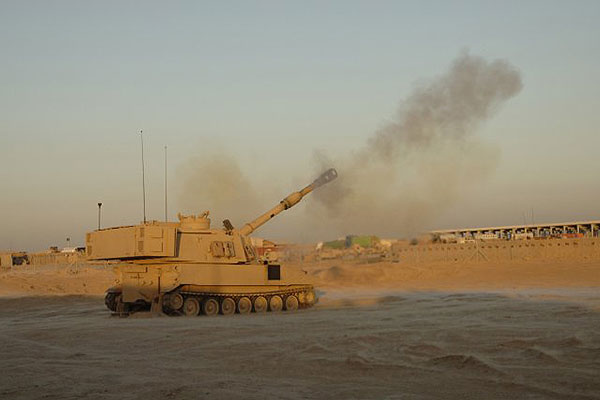 By Debbie Gregory.
The U.S. Army wants to push its long-range guns into territory where it's never been. The service's Strategic Long Range Cannon is projected to farther than any existing gun, or any gun ever made.
Gen. John "Mike" Murray, commander of Army Futures Command, told Congress the command wants to field a long-range cannon that can shoot out to 1,000 nautical miles, a range comparable to that of Tomahawk cruise missiles.
Murray testified at a hearing before the House Armed Services Committee's Subcommittee on Readiness to explain to lawmakers how the Army Futures Command will change the Army's acquisition and modernization process.
"We are looking very hard and starting down the path of hypersonics and also looking at what we call the Strategic Long Range Cannon, which conceivably could have a range of up to 1,000 nautical miles." That's the equivalent of 1,150 land miles.
The Army's largest guns, the M109A7 Paladin self-propelled howitzer and the M777 towed howitzer, are 155-millimeter guns with a maximum range of 18.6 miles. The Long Range Land Attack Projectile, a round specially designed for the Zumwalt-class of destroyers and then promptly cancelled over cost concerns, has a range of about 85 miles. Even the massive 16-inch guns of the Iowa-class battleships had a range of only 23 miles.
"From a tactical fires perspective, we are going through basically a two-step upgrade to our current Paladin, going to the M109A7, which is a new chassis," Murray said. "The next step is coming very quickly. We call it the extended-range cannon artillery. … We have already shot a … round out of that tube and more than doubled the range of our current artillery. And the goal is to get that out even further."
When this long-range cannon might see combat is yet to be determined.
Under a new streamlined acquisition approach, the service was able to shave five years off the development process, Murray said. "The initial estimate was we could field one in 2025. We are now down to [fielding] four battalions in fiscal year 2020. The requirements process was done in 90 days, as opposed to the three to five years."