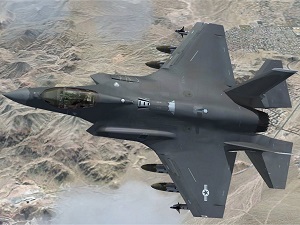 The Department of Defense (DOD) contract watch for building F-35 fighter jets for the U.S. military has received a lot of publicity over the past several years. So far, the F-35 program has generated over $1 billion in contracts to companies involved with various components of the project.
On August 13, 2014, the Lockheed-Martin Corporation was given an additional $233 million to work on flight-training and maintenance simulators for the F-35 Joint Strike Fighter program. The contract increase calls for production of 19 training simulators and nearly 70 technical support systems. The bulk of the money and the work for this contract will be done at Lockheed's facilities in and around Orlando, Florida.
Lockheed's Orlando training systems unit manages the F-35 flight training center at Eglin AFB. This division of the company also produces automated logistics computers for the stealth fighter jets. More than 500 jobs in Orlando are tied to the F-35 work, including weapons-targeting systems produced by Lockheed's missiles group.
The F-35 program has survived scrapping from the DOD through frequent schedule delays, cost overruns and technical problems. One of the most notable incidents was an engine fire on June 23rd that temporarily halted the project. The DOD acknowledged that Lockheed has taken a number of measures to cut costs and address performance issues over the past year.
Last month, Lockheed and its F-35 partners unveiled a plan to reduce costs on each individual aircraft by the end of the decade. The plan calls for spending $170 million through 2016 to shave costs from each F-35 to $80 million, down from $100 million.
But with a projected overall price of $400 billion, the F-35 is still on track to become the most expensive U.S. weapons system in history, with 2,400 planes built for the U.S. military and its allies.
The Veteran and Military Business Owners Association (VAMBOA) is a non-profit business trade association that promotes and assists Veteran Business Owners, Service Disabled Veteran Owned Businesses (SDVOB) and Military Business Owners. Small businesses are the backbone of our economy and responsible for job generation. That is why VAMBOA provides its members with Business Coaching, Contracting Opportunities, a Blog that provides information, Networking contacts and other resources. Membership is FREE to Veterans. Join Now!
VAMBOA: DOD Expands F-35 Contracts:  By Debbie Gregory