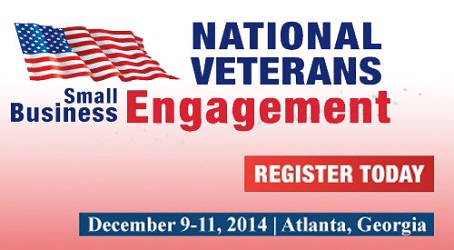 Veterans who are interested in starting or expanding their small businesses should save the date and register today for the largest and most comprehensive Veteran Small Business Expo of the year.
Each year, for the last four years, the Department of Veterans Affairs (VA) and several other government agencies have collaborated to put on the largest event for Veteran entrepreneurs in the country, called the National Veterans Small Business Engagement (NVSBE).
The theme of NVSBE 2014 is "ACCESS" which is an acronym for "Advocate, Create, Commit, Expand, Strengthen, Sustain." The event is designed to connect Veteran-owned Small Businesses and Veteran entrepreneurs with exclusive access to networking opportunities and learning sessions.
With 3,000 attendees expected, as well as more than 400 exhibitors and 25 government agencies, the NVSBE is a must-attend event for Veteran-owned small businesses.
The NVSBE is chalk full of activities designed to aid in the success of Veteran business ventures. Each day of the event has an Agenda that includes networking functions and breakout learning sessions.The learning sessions consist of dozens of topics that attendees can register for, according to their needs. Topics include creating a small business, business expansion, financing, government contracts, Veterans assistance, procurements, sustaining a small business, leadership, service-disabled Veteran-owned business resources and many more. The last day of the event includes an awards ceremony and one-on-one follow-up meetings with procurement decision makers and program professionals.
One of the most advantageous reasons to attend the NVSBE is the direct access to procurement decision makers, program specialists and acquisition staff from government agencies and large corporations.
The three day event will be held on December 9, 10 and 11, 2014, at the Georgia World Congress Center in Atlanta. To register for the 2014 NVSBE in Atlanta, please visit the Registration Information Page.
The Veteran and Military Business Owners Association (VAMBOA) is a non-profit business trade association that promotes and assists Veteran Business Owners, Service Disabled Veteran Owned Businesses (SDVOB) and Military Business Owners. Small businesses are the backbone of our economy and responsible for job generation. That is why VAMBOA provides its members with Business Coaching, Contracting Opportunities, a Blog that provides information, Networking contacts and other resources. Membership is FREE to Veterans. Join Now!
VAMBOA: Veterans Small Business Expo: By Debbie Gregory