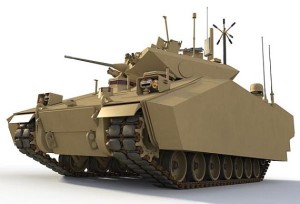 By Debbie Gregory.
The Future Fighting Vehicle (FFV) program may not be totally down for the count. The Army has awarded two contracts, worth more than $28 million each, to BAE Systems and General Dynamics Land Systems to develop design concepts for the FFV.
The effort is meant to determine whether the Army will produce an entirely new vehicle or a modern armed and armored personnel carrier to replace the Army's Bradley Fighting Vehicle.
The Bradley, which the Ground Combat Vehicle (GCV) program was to replace, has been in service since 1981, and is expected to remain in the Army inventory perhaps for decades in the future.
In October, Brig. Gen. David Bassett, commander PEO Ground Combat Systems, said the FFV program was largely a science-and-technology development effort, meant to help the Army explore its options while it pursues various engineering-change proposals for its existing armored vehicles.
The Army is asking BAE Systems and General Dynamics to study technologies, costs, and risks against future infantry fighting vehicle requirements for a FFV system.[Native Advertisement]
From their GCV work, BAE Systems engineers will try to recycle integrated hybrid-electric propulsion and mobility subsystems, automotive test rigs, and hybrid-electric integrated propulsion subsystems.
Due to the use of a hybrid-electric propulsion, the company will design and implement calibration maps for all components within their hybrid systems to test component efficiencies within integrated propulsion systems.
The Army's other vehicle efforts include its pursuit of a Humvee replacement, the joint light tactical vehicle, and M113 infantry carrier replacement, the armored multipurpose vehicle, along with upgrades to the Abrams, Stryker and Paladin.
Currently in the development stage is a light vehicle that's designed to enable airborne troops to move quickly to an objective after they've parachuted in. On May 28, Army Chief of Staff Ray Odierno said the service is exploring the needs for a vehicle that provides mobile protected firepower, an infantry fighting vehicle and a light tank, using 20 collaborative war-fighting challenges to identify capability gaps — with near-, mid- and long-term solutions.
The Veteran and Military Business Owners Association (VAMBOA) is a non-profit business trade association that promotes and assists Veteran Business Owners, Service Disabled Veteran Owned Businesses (SDVOB) and Military Business Owners. Small businesses are the backbone of our economy and responsible for job generation. That is why VAMBOA provides its members with Business Coaching, Contracting Opportunities, a Blog that provides information, Networking contacts and other resources. Membership is FREE to Veterans. Join Now!
VAMBOA: US Army Awards Contracts for FFV Designs: By Debbie Gregory