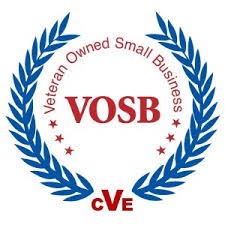 Each year, government entities such as the Department of Veterans Affairs (VA) set aside contracts specifically for companies owned by Veterans. There are even stipulations for large companies to subcontract out to Veteran-owned businesses in order to be awarded certain contracts. Up until just a few years ago, any business owner could win government contracts and subcontracts through larger corporations by merely checking a box on a form stating that their firm was a Veteran-owned business­. There was no follow-up, and no one checked.
Today, firms wanting to utilize procurement opportunities through the VA must be verified through the Center for Verification and Evaluation (CVE) as a Veteran-Owned Small Business (VOSB) or a Service-Disabled Veteran-Owned Small Business (SDVOSB).  The verification program was established to reduce the number of businesses that were fraudulently claiming a Veteran-owned status. The program also serves to protect the competitive edge that the set-aside contracts provide to Veteran-owned small businesses.
The verification program utilizes a meticulous process to ensure that businesses claiming to be either a VOSB or a SDVOSB are in fact owned and controlled by a Veteran, or multiple Veterans. The CVE has established a Verification Assistance Program (VAP) that helps Veteran business owners through the process.
The key function of VAP is application assistance. To accomplish this function, the CVE has developed a partnership to grow and sustain an inventory of VA certified verification assistance counselors. These individuals, located throughout the country, provide "no-cost" assistance to Veterans throughout the verification application process. Veterans have admitted to paying as much as $20,000 for similar services.
The CVE has also begun hosting Verification Program webinars and virtual town halls to provide comprehensive information to potential new applicants, firms re-verifying, and those who have achieved verification.
The schedule of webinars includes:
1st Tuesday of each month – Preparing for Re-verification Webinar & Town Hall

This training is designed for firms whose verification will expire in 5 months or thirty days.

3rd Tuesday of each month – Pre-Application Webinar & Town Hall

This training is designed for firms interested in submitted their first CVE Verification application. Also, firms who have been inactive in the program for some time and now desire to submit an application can also benefit from this session.

4th Tuesday of each month – How to stay Verified Webinar & Town Hall

This training is designed for firms who have been verified in the last six months.
To learn more about CVE and the verification program, please connect via  http://www.vetbiz.gov
The Veteran and Military Business Owners Association (VAMBOA) is a non-profit business trade association that promotes and assists Veteran Business Owners, Service Disabled Veteran Owned Businesses (SDVOB) and Military Business Owners. Small businesses are the backbone of our economy and responsible for job generation. That is why VAMBOA provides its members with Business Coaching, Contracting Opportunities, a Blog that provides information, Networking contacts and other resources. Membership is FREE to Veterans. Join Now!
VAMBOA: Make Sure Your Company is a Verified Veteran-Owned Business: By Debbie Gregory