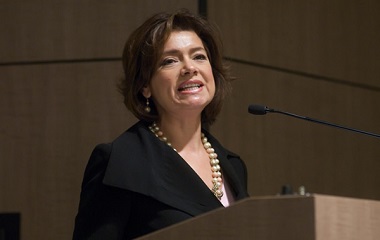 On Thursday, this October 16, 2014, the U.S. Small Business Administration (SBA) announced the launch of "Destination: HUB."
Since 1998, the SBA's HUBZone program has served small businesses in urban and rural communities to gain preferential access to federal procurement opportunities. The program encourages economic development and employment growth in "Historically Underutilized Business Zones" by providing opportunities for companies to become active participants in the federal supply chain.
"Destination: HUB" will promote and highlight HUBZones for opportunities in federal procurement, according to SBA Administrator Maria Contreras-Sweet
"More than any other SBA initiative, the HUBZone Program has been a critical resource, creating jobs, alleviating poverty and reducing unemployment in our nation's most vulnerable communities.  The program has had a transformational effect on small businesses all across the country. SBA's Destination: HUB will put a spotlight on our underserved small businesses and promote HUBZones as ideal places for government contractors to do business," Contreras-Sweet said.
The SBA maintains a goal of providing 3% of the federal government contracts to HUBZone businesses. According to Contreras-Sweet, HUBZone businesses only received 1.7% of federal contracts in 2013. The new initiative is intended to better aid the SBA in achieving, or even exceeding, its goal.
Destination: HUB will promote HUBZone firms in federal contract opportunities, while ensuring government officials, federal buyers, prime contractors, and local economic development boards cooperate to bring more awards directly for HUBZone businesses.
In an effort to generate maximum effectiveness, Destination HUB will consist of three major components.
1) Examining the successes and needs in the HUBZone program.
2) Analyzing the ideal situations for successful HUBZone collaboration, using the power of public and private partnerships and market research to recruit more firms for HUBZone participation.
3) Launching an educational initiative, in collaboration with community organizations, faith leaders, local economic development, and key stakeholders, to encourage participation in and inspire collective ownership of, the HUBZone program, at both the regional and national levels.
It is the hope of Contreras-Sweet that Destination HUB will further the SBA's effort to improve access to capital and close opportunity gaps in communities of color by empowering entrepreneurs and small business owners' economic and social mobility through employment and business growth.
The Veteran and Military Business Owners Association (VAMBOA) is a non-profit business trade association that promotes and assists Veteran Business Owners, Service Disabled Veteran Owned Businesses (SDVOB) and Military Business Owners. Small businesses are the backbone of our economy and responsible for job generation. That is why VAMBOA provides its members with Business Coaching, Contracting Opportunities, a Blog that provides information, Networking contacts and other resources. Membership is FREE to Veterans. Join Now!
VAMBOA: New SBA Initiative: By Debbie Gregory