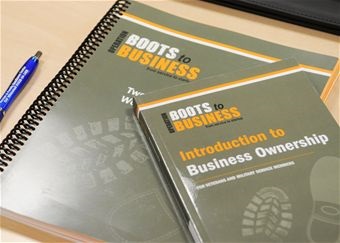 Attention all honorably discharged Veterans and Veteran spouses in the Los Angeles area: If you are an entrepreneur running your own business or considering starting your own company, this the U.S. Small Business Administration (SBA) has some great news for you! The SBA will soon be holding the entrepreneurial education program Boots to Business: Reboot.
The SBA offers the Boots to Business: Reboot program in partnership with the Institute for Veterans and military families at Syracuse University (IVMF).  The program provides assistance to Veterans exploring self-employment opportunities by leading them through the key steps for evaluating business concepts, and the foundational knowledge required for developing a business plan. Through the program, Veterans are also connected to SBA resources that enable them to access start-up capital and obtain any additional technical assistance.
The Los Angeles area Boots to Business Reboot session will be held Friday, August 15th , from 8:30 am to 5:00 pm, and Saturday, August 16th ,  from 10:00 am to 2:00 pm. The event will take place at the Bob Hope Patriotic Hall, Lincoln Room, 1816 S. Figueroa St., Los Angeles, CA.
Parking for the event is limited. Most attendees will have to park in the overflow lot down the street at Los Angeles Trade Tech, on the roof-top parking lot, which is accessible from Flower Street.
The knowledge, skills, resources and networking contacts gained through the Boots to Business: Reboot program can be the difference between a successful Veteran owned small business and a business idea that never got off the ground.
To register for the two-day L.A. event, please visit http://boots2business.org/reboot-apply.aspx
Openings are limited, sign up now!
The Veteran and Military Business Owners Association (VAMBOA) is a non-profit business trade association that promotes and assists Veteran Business Owners, Service Disabled Veteran Owned Businesses (SDVOB) and Military Business Owners. Small businesses are the backbone of our economy and responsible for job generation. That is why VAMBOA provides its members with Business Coaching, Contracting Opportunities, a Blog that provides information, Networking contacts and other resources. Membership is FREE to Veterans. Join Now!
VAMBOA: Enroll in Veteran Entrepreneur Class in LA:By Debbie Gregory